200W LED Flood Light, 5700K, 28000 Lumens, Dimmable , AC120-277V, Bronze, Super Bright Security Flood Lighting for Buildings, Warehouse, Parking Lots, Yard
200W LED Flood Light, 5700K, 28000 Lumens, Dimmable , AC120-277V, Bronze, Super Bright Security Flood Lighting for Buildings, Warehouse, Parking Lots, Yard
Free Shipping
30 Days Return
5 Years Warranty
Share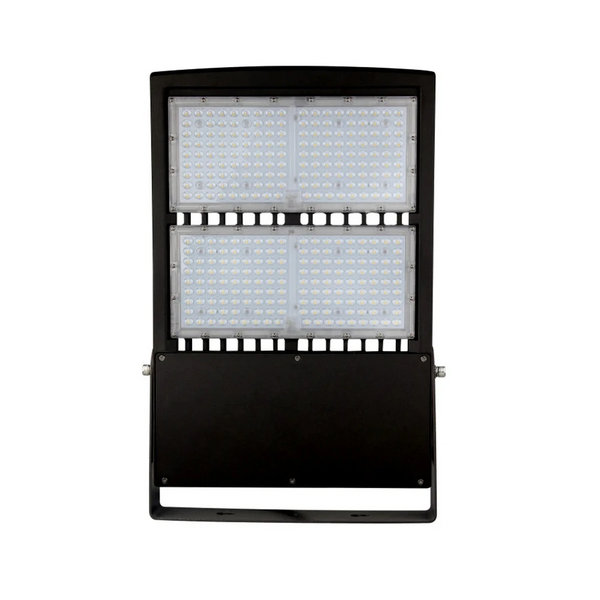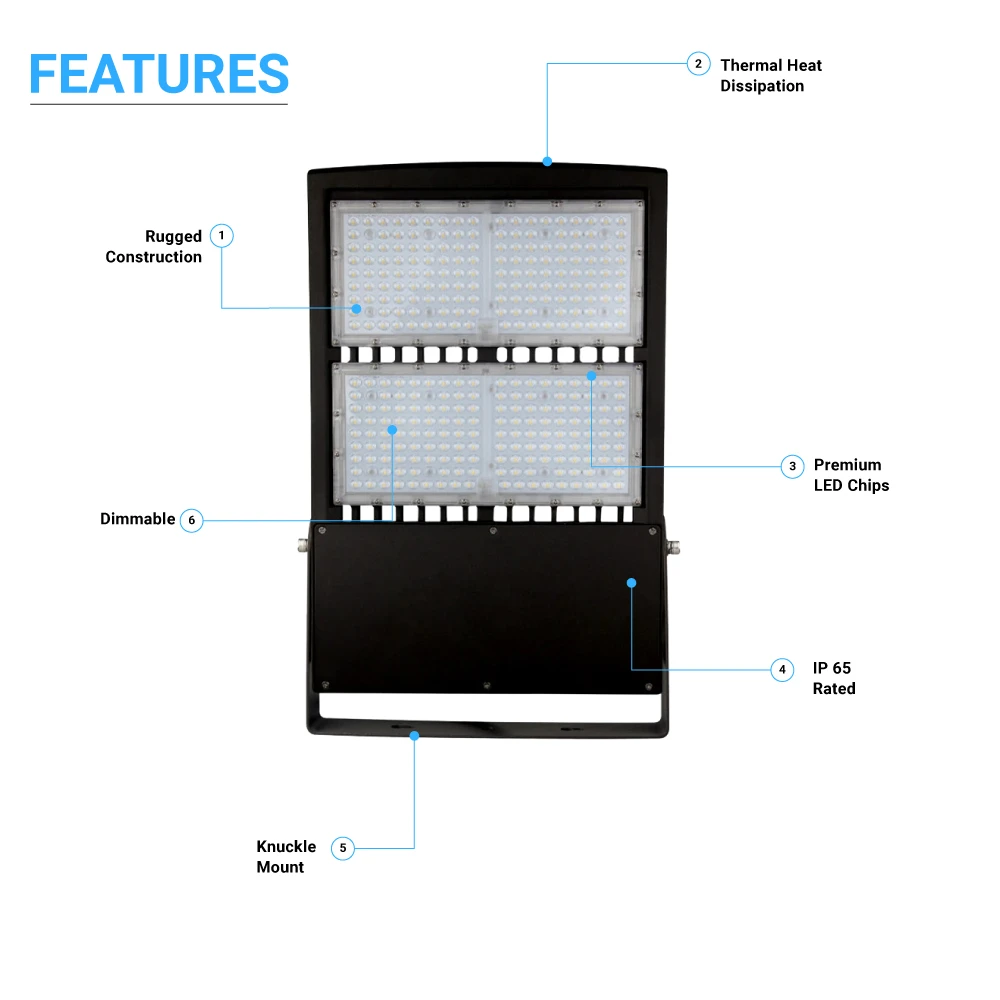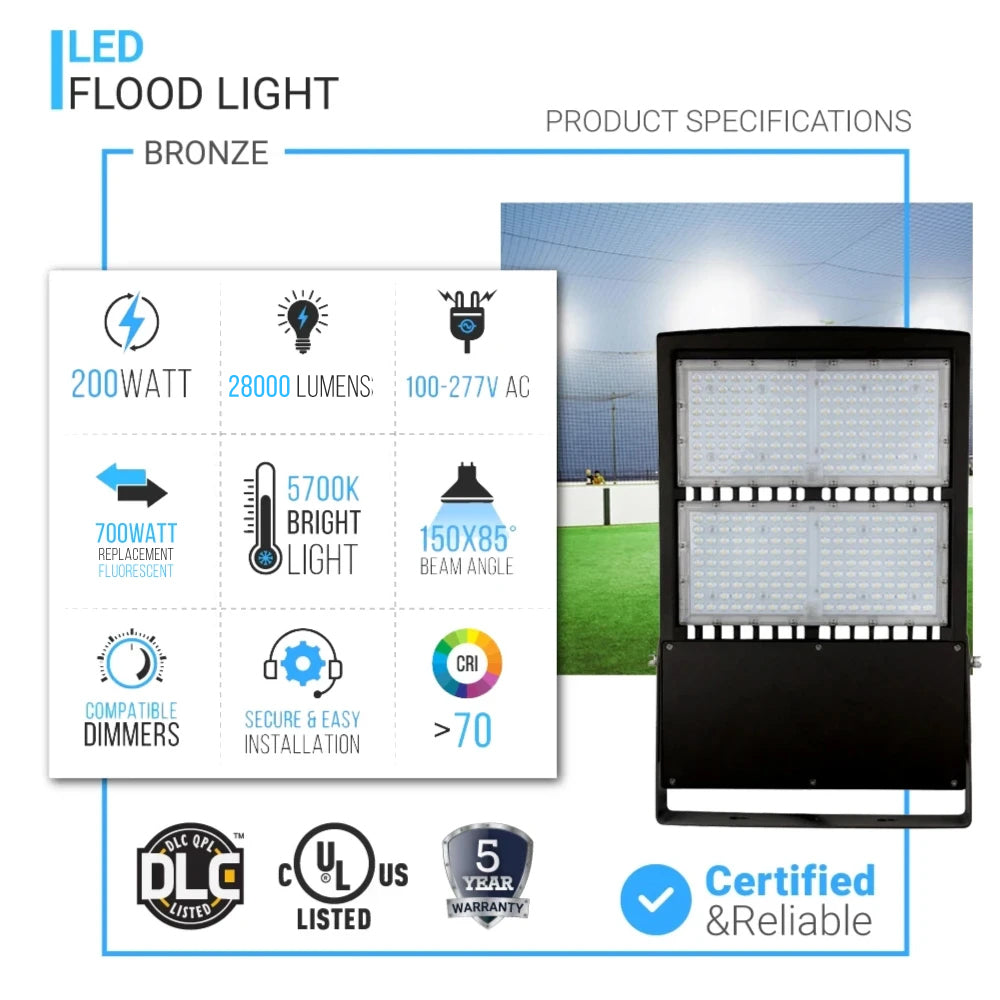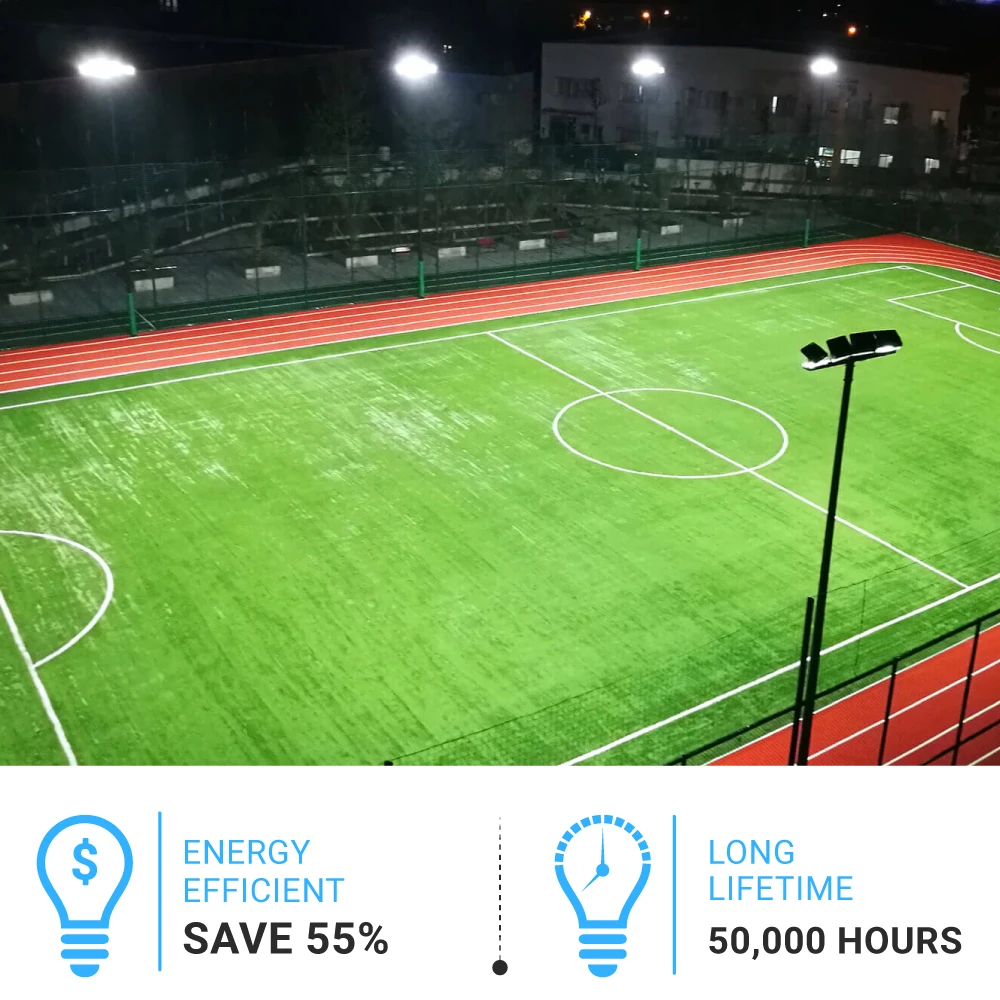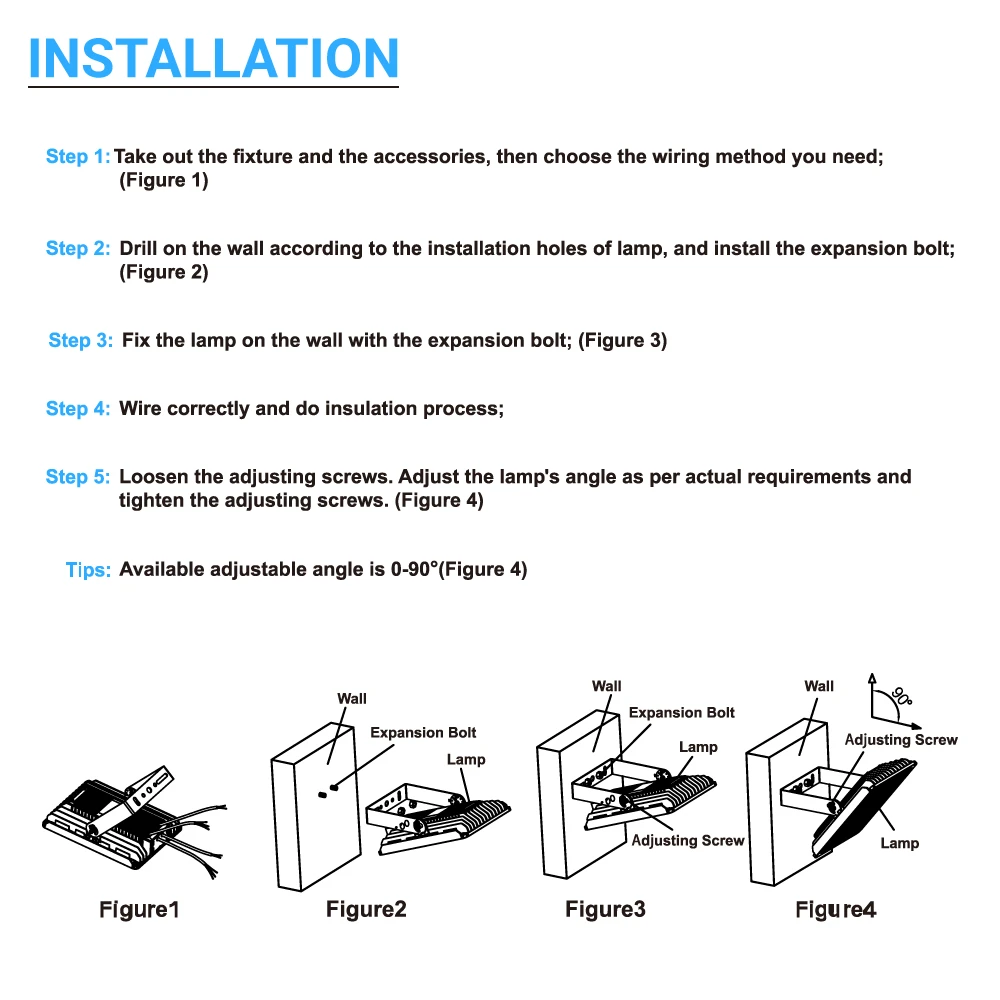 200W LED Flood light, Dimmable, UL, DLC Listed, U-Bracket Mount, IP65, For Yard, Garden, Basketball Court, Arena
The robust and durable 200 Watt LED Flood Light can illuminate your outdoors in a super bright manner. The light contains a 5700K color temperature that sufficiently delivers a cool white light atmosphere. The U bracket mounting option helps in placing the light conveniently. Parking premiss, arenas, parks, and other wide-open spaces can trust this light to disperse bright light for a visible path to create a sense of secure atmosphere for the visitors. The 28000 Lumens power makes it ideal for outdoor locations. This 200 Watt light is as capable as a 700 Watt fluorescent light.
Furthermore, this light is suitable for wet locations and can resist dust from affecting the light's performance. With the IP65 rating, this light is supposedly water and dust-resistant. Simultaneously, certifications like UL and DLC remarks the credibility of this LED flood light. Considering even illumination a prime requirement in wide outdoor locations, the light can deliver light with a 160x115 degrees ultra wide angle. So, opt for this bronze finish light that will work efficiently in both performance and energy consumption factors.
Features of 200W LED Outdoor Security Floodlights:
Available Wattage: 200W
Available Color Temperature: 5700K
Luminous Flux: 28000 Lumens
Wattage Equivalent: 700W
Mounting: U Bracket
Lifespan: 50,000 hours
Voltage: 120V - 277V
Color: Bronze
IP65 Rated
UL, DLC approved
5 Years of Manufacturer's warranty
Easy Installation
LED flood lights are a versatile solution for all your outdoor lighting problems. These lights can be installed anywhere around your property. Comes with various mounting options such as flood or U Bracket mounting, and knuckle mounting. These LED flood lights can be installed in both upward or downward fashion to illuminate your outdoors at different beam angles. Mounting these lights is a simple process enabling you to do an easy and quick installation.
To change the beam angle a user simply has to loosen the thumb-screw, move the fixture onto the desired position, and then retighten the screw.
An IP65 Rating for Water-Resistance
This LED flood light comes with an IP65 certified driver that can withstand harsh weather conditions. The lighting fixture is designed and tested to resist ingress of dust, dirt, or water (from the water jet or rainfall) making them dust and splash-proof. Hence, these LED flood lights are ideal to use in outdoor locations where there are chances of dust, dirt, and dampness.
Rugged Construction
With a rugged aluminium casing on the outside, our outdoor LED flood light has the necessary durability to handle wind, dust, moisture or snow. With robust design and an aesthetic look, our outdoor LED flood light makes for a superior luminaire than any HID or metal-halide lamp.
Polycarbonate Optics
Polycarbonate as an outer coating is used for our LED flood light to achieve an optimal lighting performance and durability. The polycarbonate imparts dimensional stability, resistance to withstand external heat and any other impact.
Thermal Heat Dissipation
The heat sink inside the LED flood light is made up of aluminium which being a good conductor heat can dissipate heat effectively and efficiently.

Ultra Wide Angle Lens
Our LED flood light has an ultra wide-angle - 160 degrees for flood illumination of huge areas and wide spaces. This beam angle is not for the purpose of highlighting any specific object, rather it is for -- general area/sight lighting.

Premium LED Chips
We ensure the highest quality of our products by having premium LED chips from Epistar. The chip is so embedded inside our LED flood light fixture in such a way that the highest operational efficiency is ensured.

Dimmable
The 200W LED Flood Light brings you extra energy-savings by being dimmable. It can be dimmed from 1-10V, 0 being the ''maximum dimming'' level and 10 the "lowest level of dimming". Our flood light is compatible with most standard dimmers available in the market.
Low Cost Maintenance
The LED flood light needs very low maintenance because of the technology that it uses and a low lumen depreciation it undergoes until the end of its lifespan. Hence, a low maintenance cost.
Vibration Test Pass:
For the vibration testing the luminaire under the test is exposed to a certain vibration level and graded according to the national and international standards making it an important test of durability.
Rebate Eligible
As DLC approved product, an LED flood light makes you eligible for rebate.
Compatible Dimmers
This product is compatible with the following dimmers. These dimmers work perfectly with our lights.
DS710
IP710
NTSTV-DV
NFTV
DVTV-WH
H4FBL3PW
**For any other Dimmer please contact our customer support or check with your electrician.
Specifications
| | |
| --- | --- |
| Beam Angle: | 160x115° Beam Angle |
| Certifications: | UL, DLC Listed |
| Dimensions (L x W x H): | 26.54 x 14.88 x 5.71 |
| DLC Listed: | Yes |
| Housing: | Aluminum |
| Life Hours: | 50,000 Hours |
| Mounting: | U Bracket |
| Power Factor: | >0.9 |
| SKU: | WEN-S200WCT3FMB1-5700K |
| Warranty: | 5 Years |
| Operating Temperature: | -4 Degree F To +113 Degree F |
| | |
| --- | --- |
| Brand: | LEDMyplace |
| Color Temperature (Kelvin): | 5700 Kelvin |
| Dimmable: | 1-10 Dimmable |
| Fixture Color: | Bronze |
| IP Rating: | IP65 Rated |
| Lumens: | 28000 Lumens |
| MPN (Part No.): | FD003 |
| Replaces: | 700 Watt Replacement |
| Voltage: | 120-277 Volt |
| Wattage: | 200 Watt |
Product Review
i live in southwest PA. the temperature can get down to -3O below zero. Where I plan on mounting it would be in a very sunny location and the temperature gets into the 90's in the summer. Would this light fit my needs with the operating Temperature:-4 Degree F To +113 Degree F?

This lights comes with an operating temprature, without motion sensor -22 F to 122 F & with motion sensor -4 F to 122 F. Please check according to your needs.

I need a flood light that will reach out at least a hundred yards what do you got

You'll either want a 300W or a 480W Flood light!

Is it 110 or 220

Our Flood light is 120-277V

Do you have any of these outdoor flood lights that come with a photocell, like a dusk to dawn light?

Unfortunately the flood lights doesn't have the photocell, but we do have the Pole lights with photocell option.

You dont happen to know what this light weighs do you? Its the 200W fllood light

It's 18.50lb
Choosing a selection results in a full page refresh.