200W LED Pole Lights Outdoor, 5700K, 28000LM, Universal Mount, Bronze, AC120-277V, Waterproof IP65, Parking Lot Lights, Security Lights, Outdoor Commercial Area Road Lighting
200W LED Pole Lights Outdoor, 5700K, 28000LM, Universal Mount, Bronze, AC120-277V, Waterproof IP65, Parking Lot Lights, Security Lights, Outdoor Commercial Area Road Lighting
Free Shipping
30 Days Return
5 Years Warranty
Share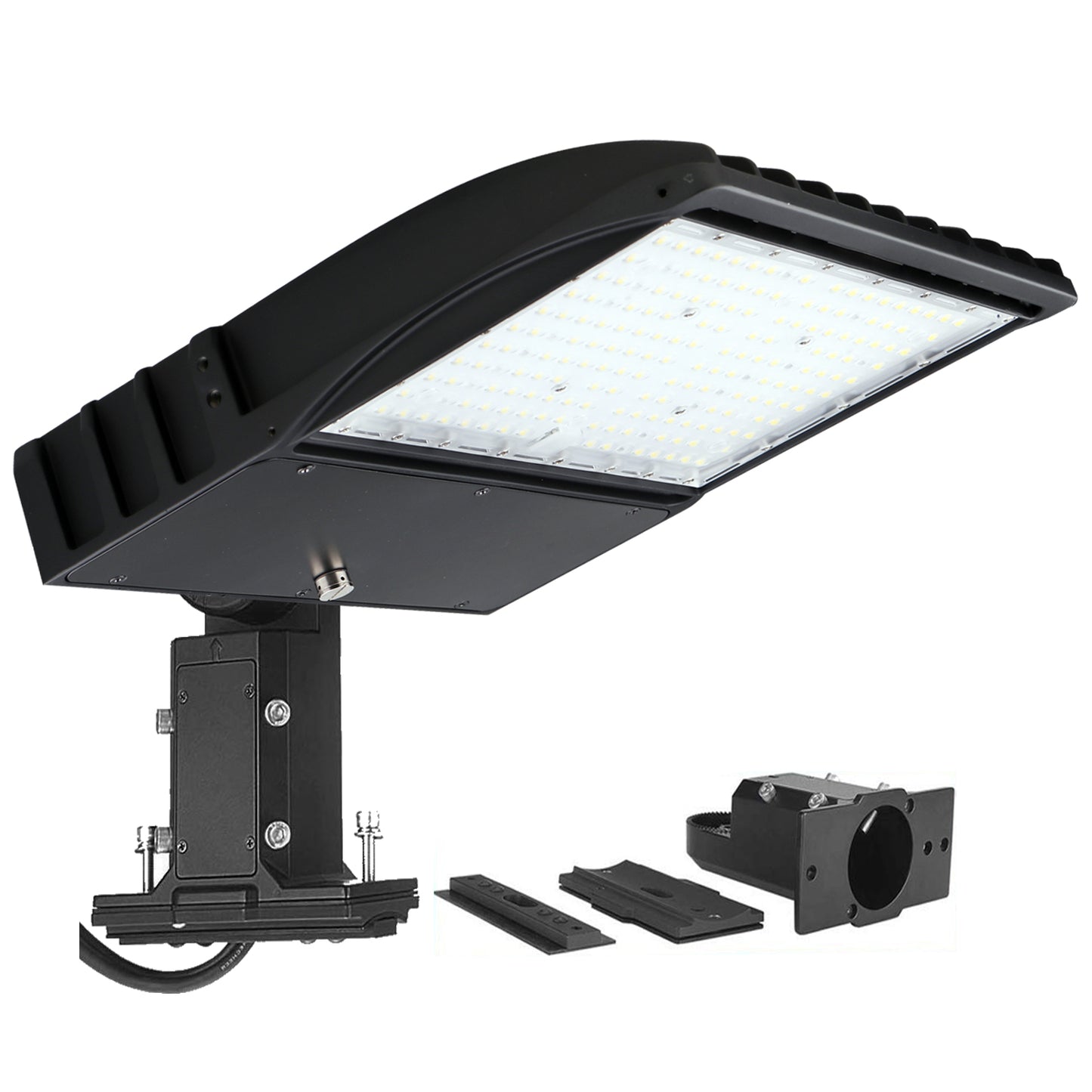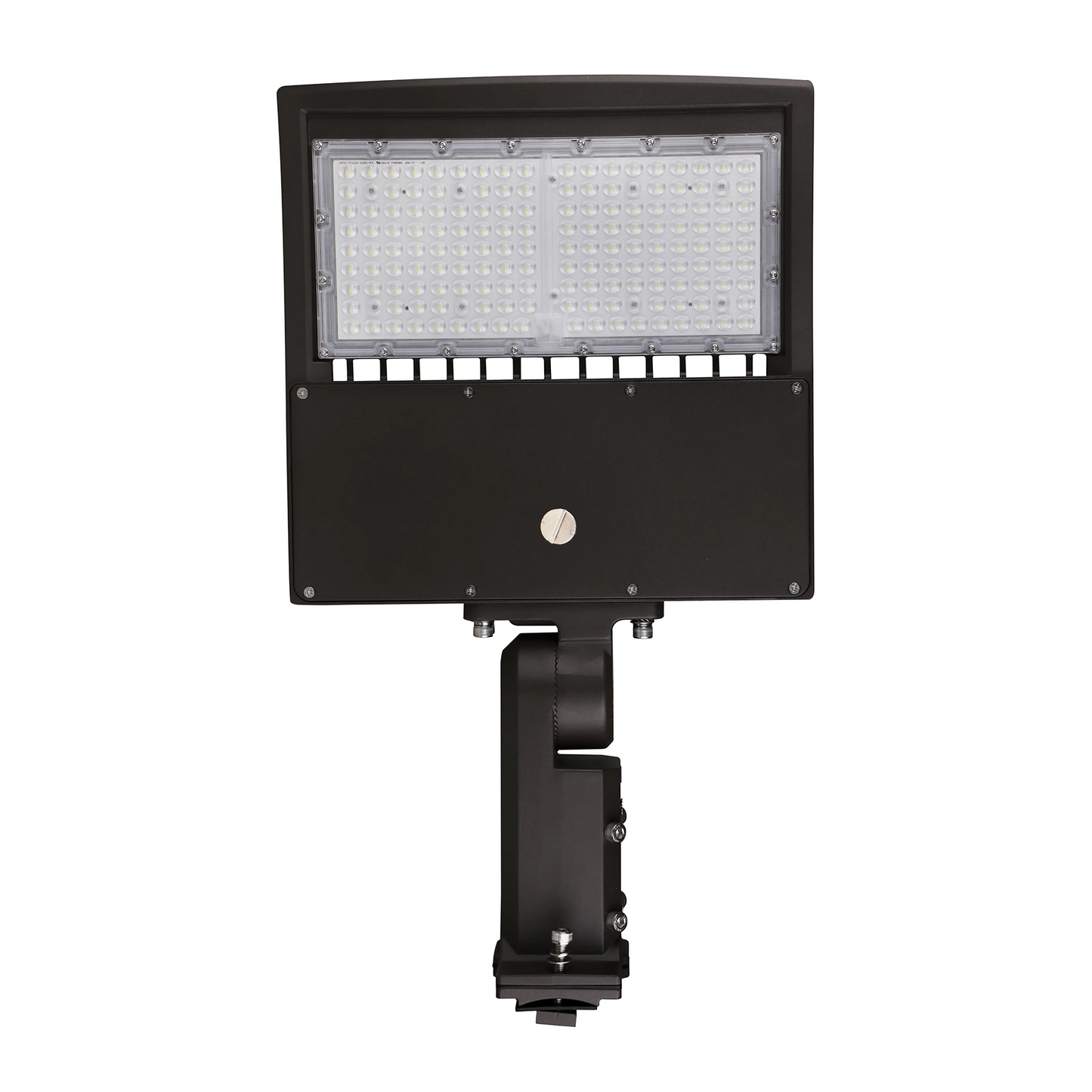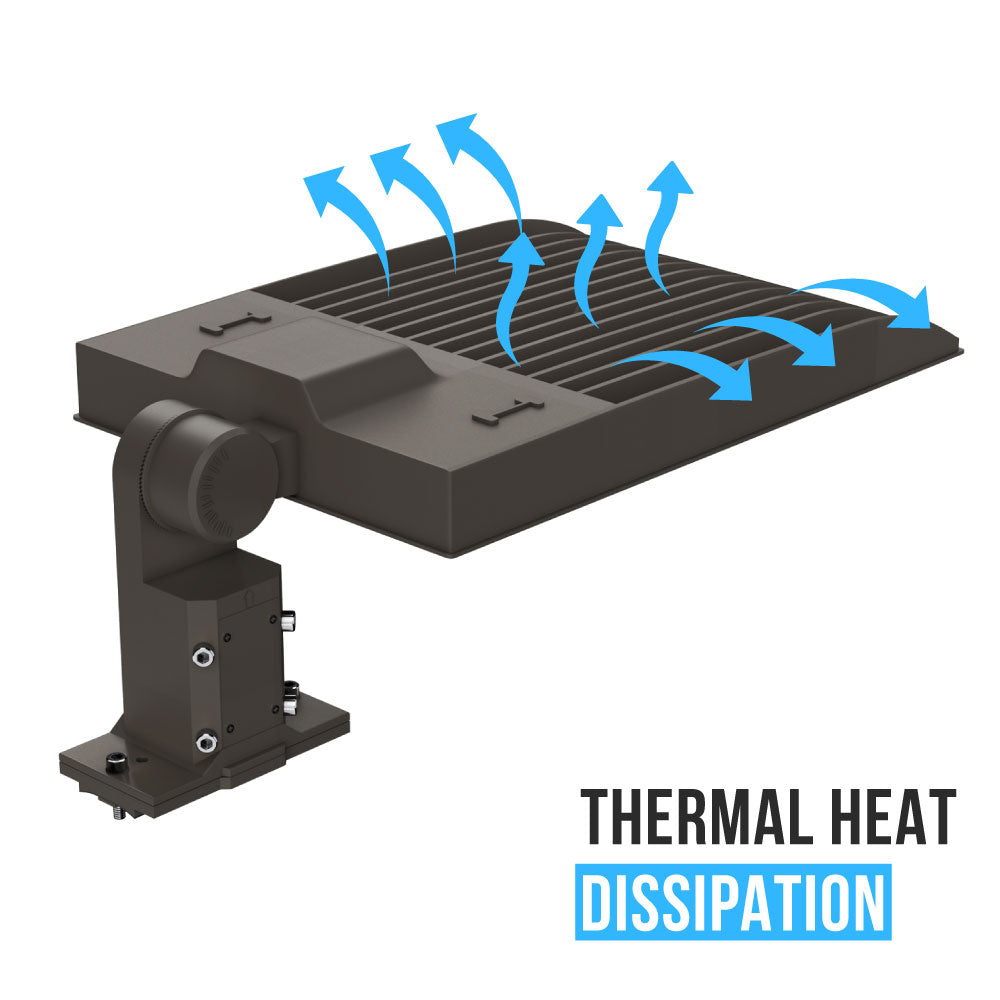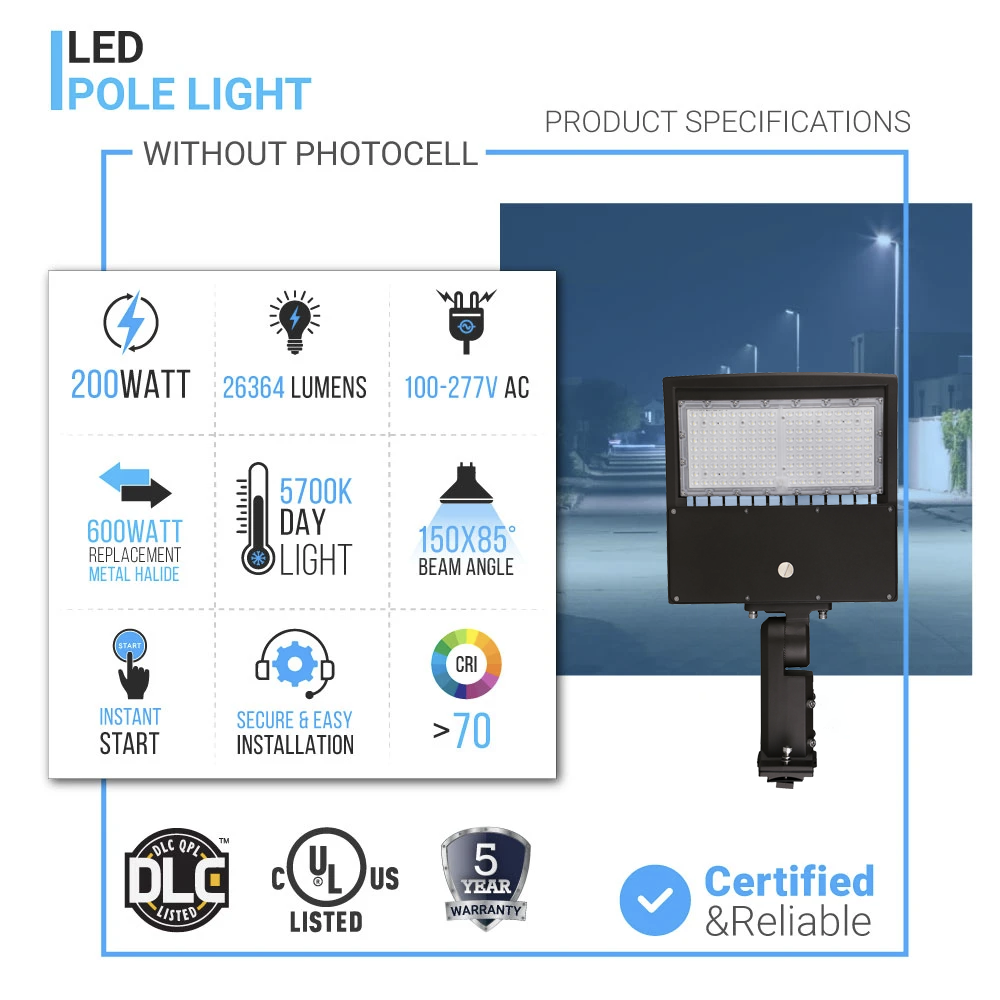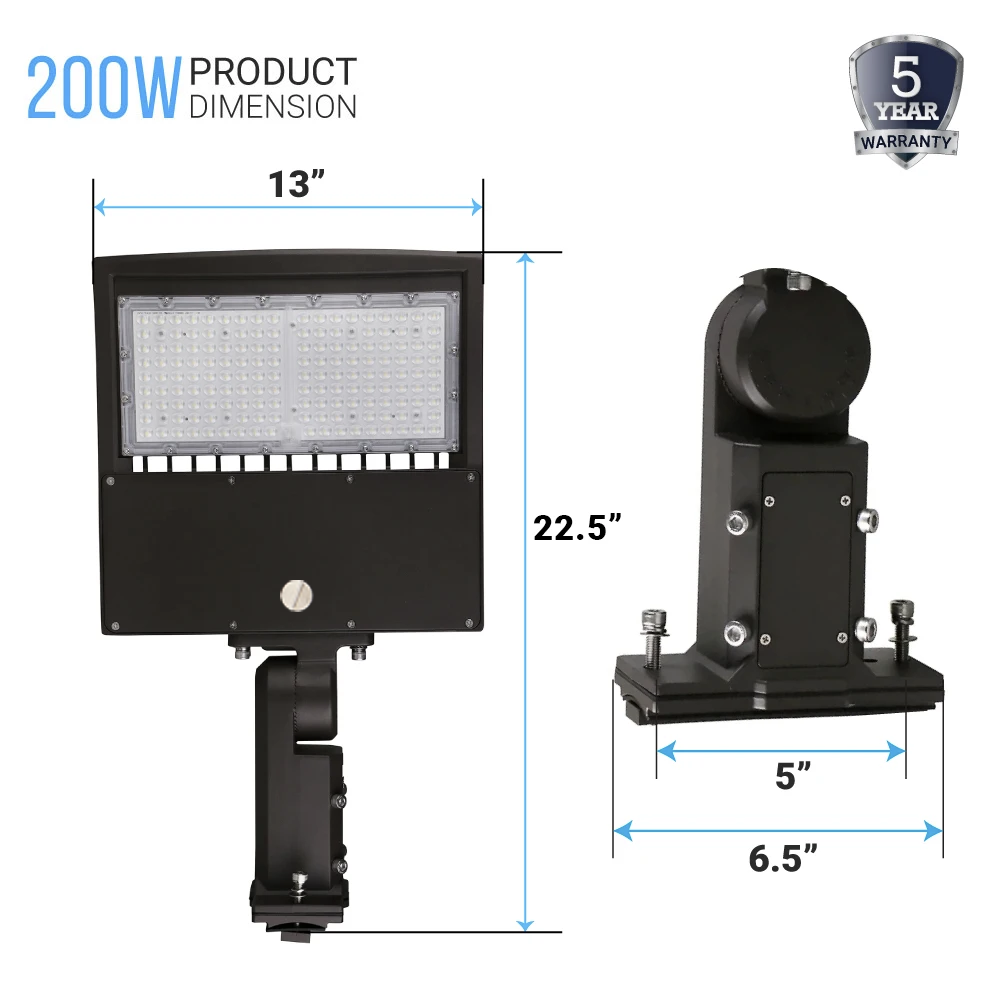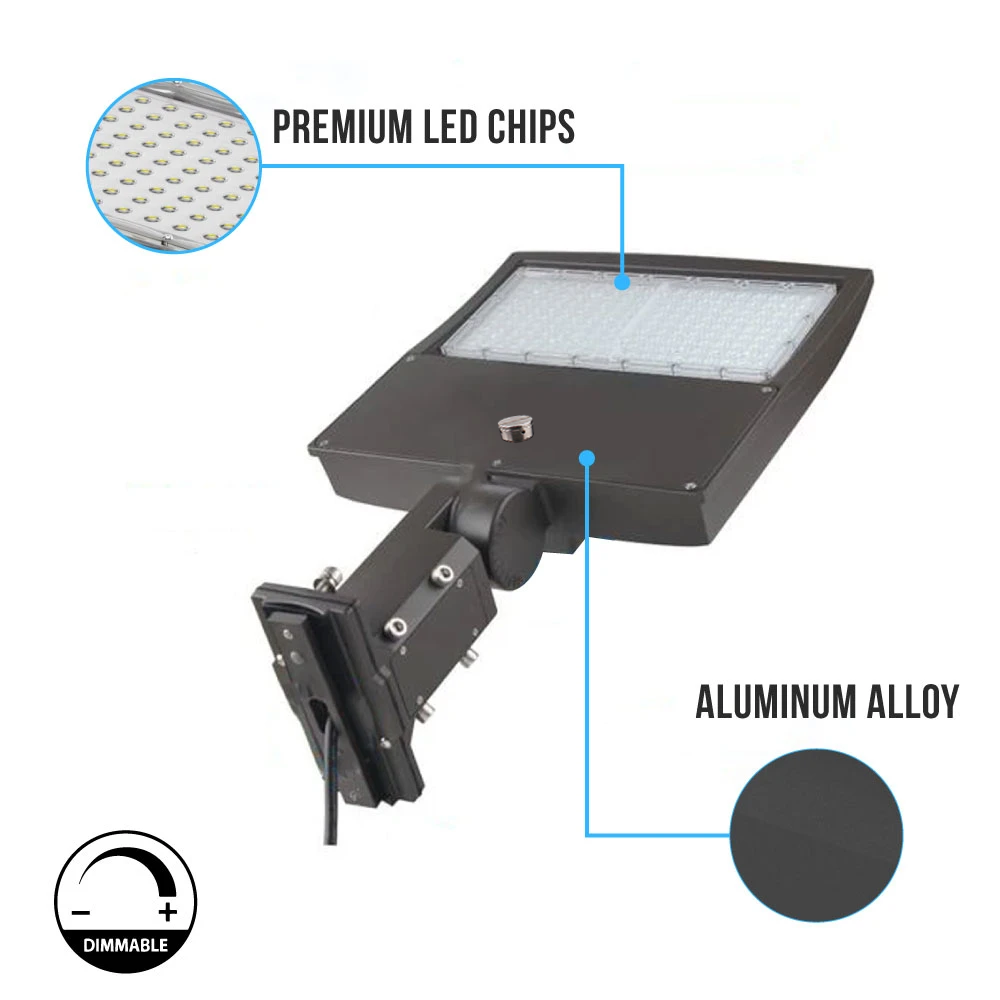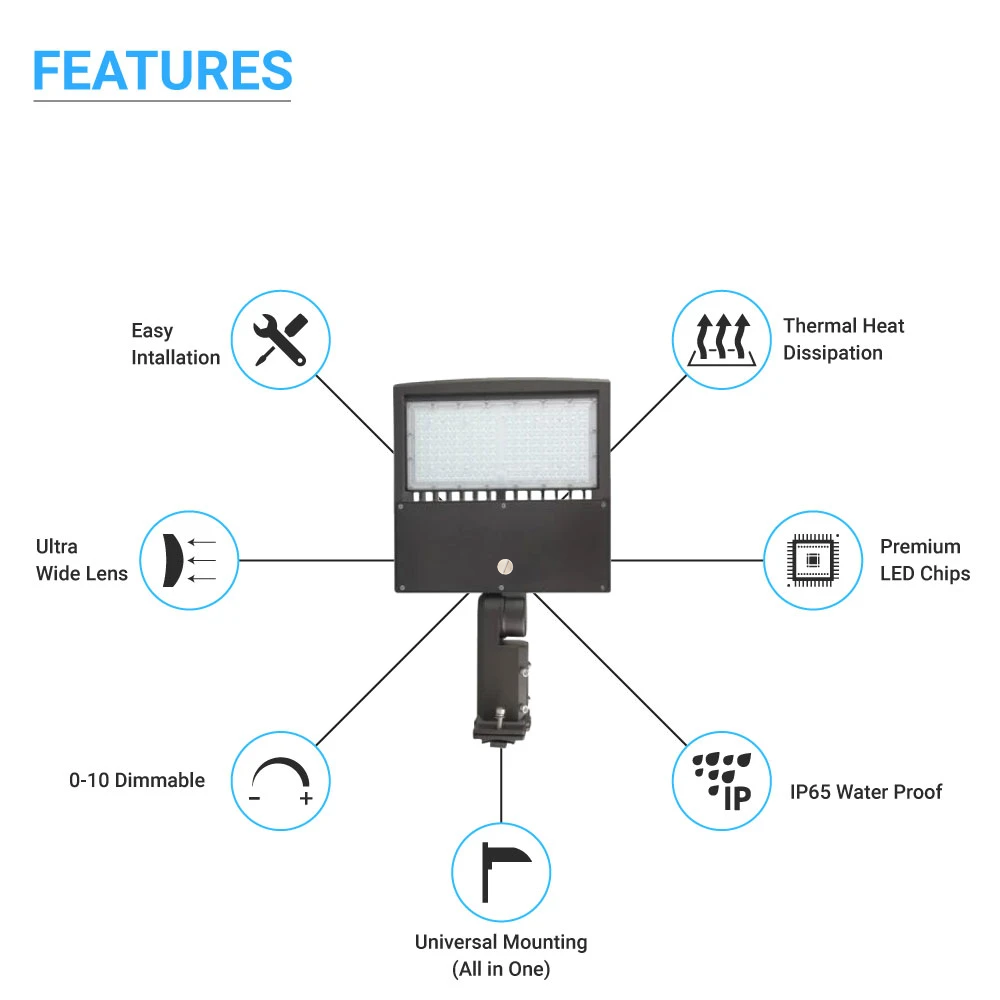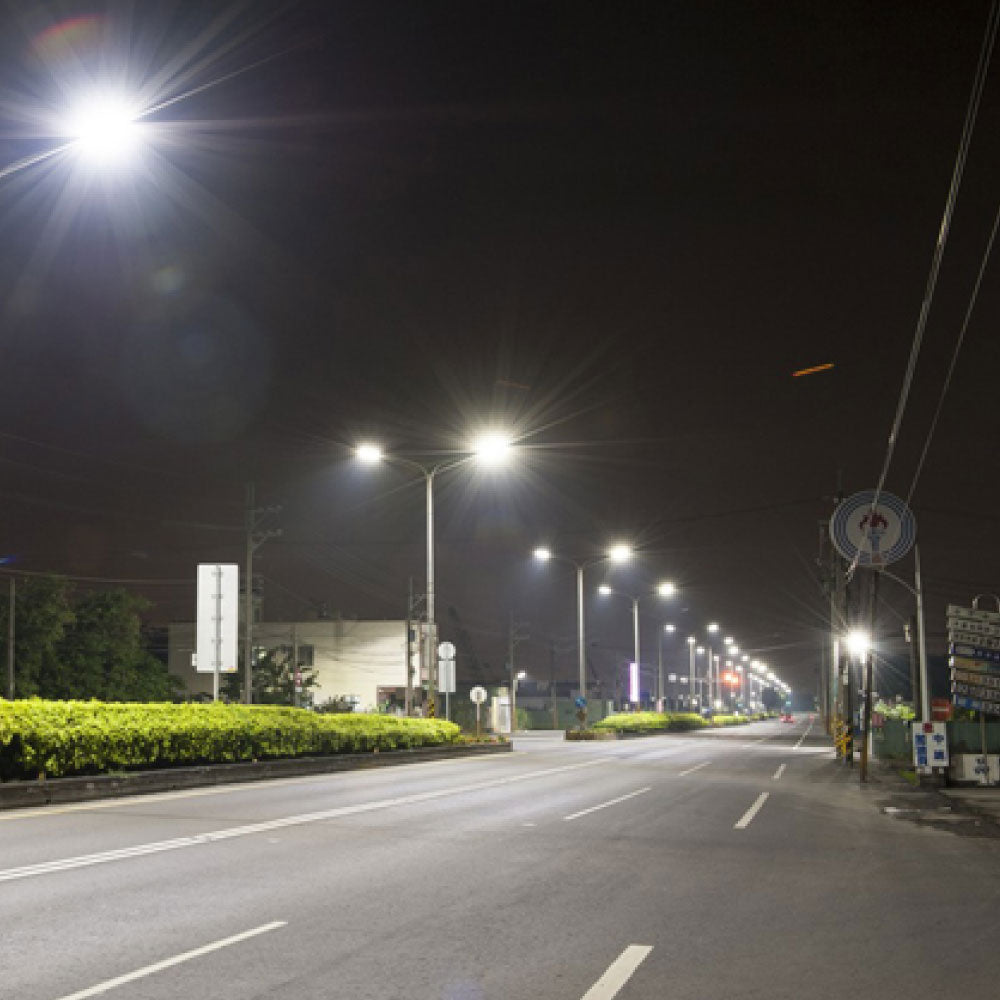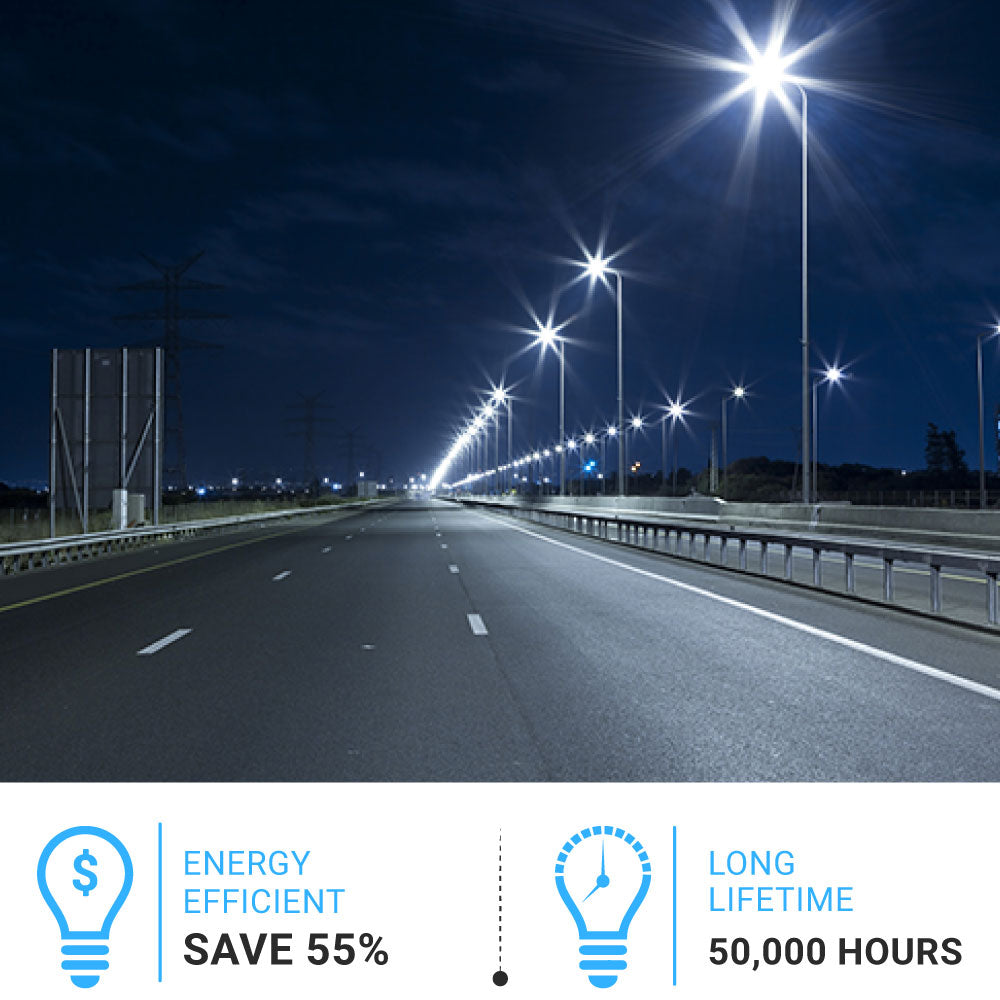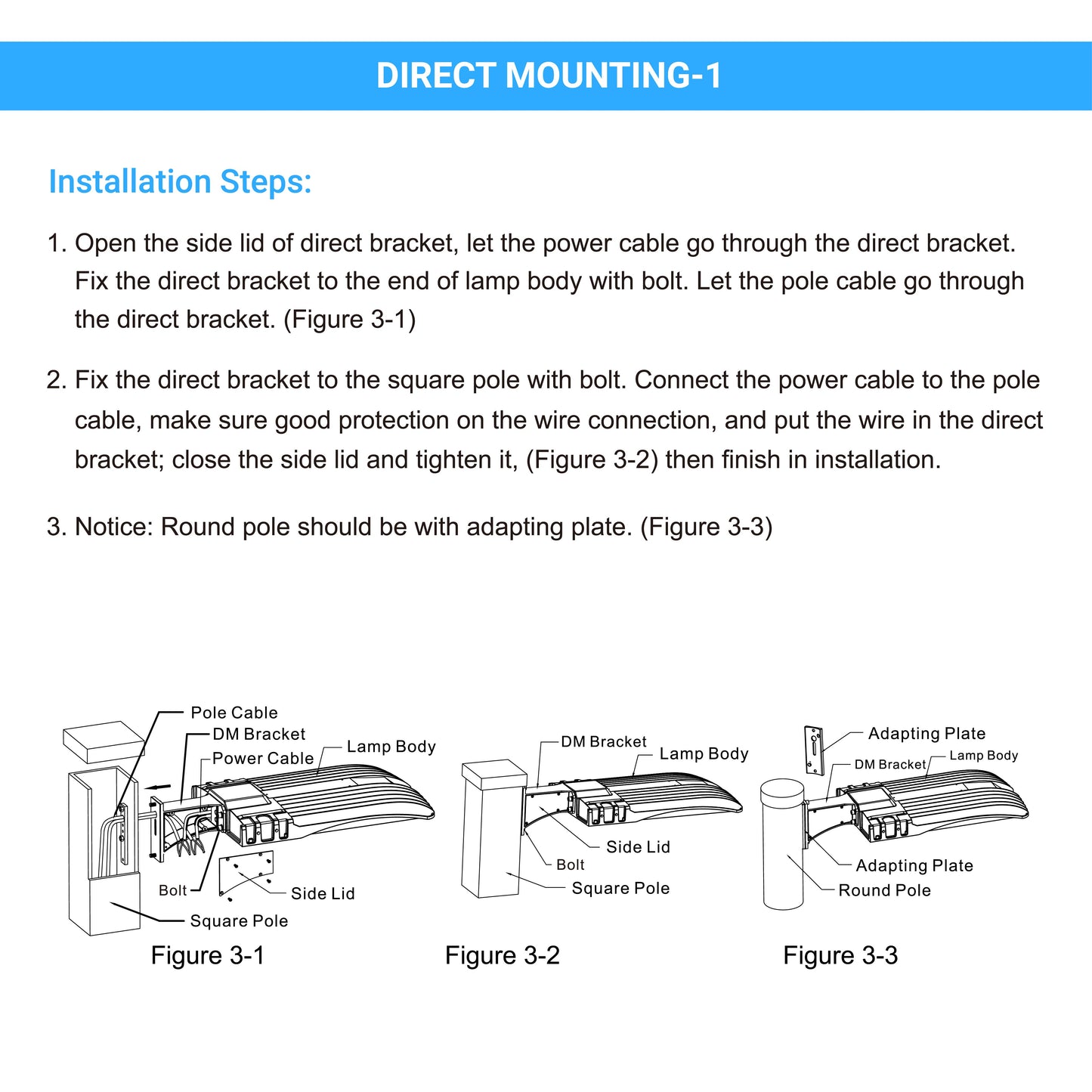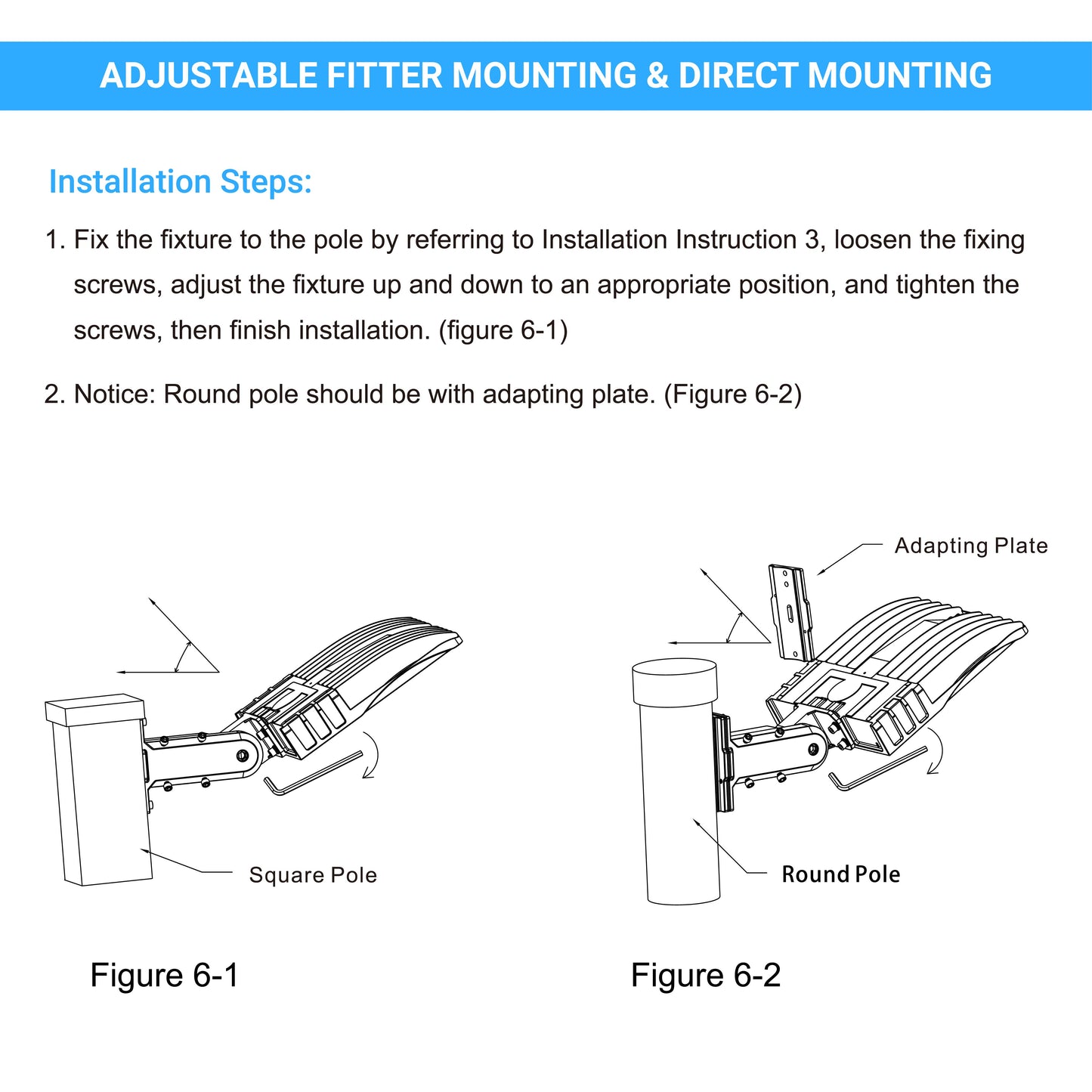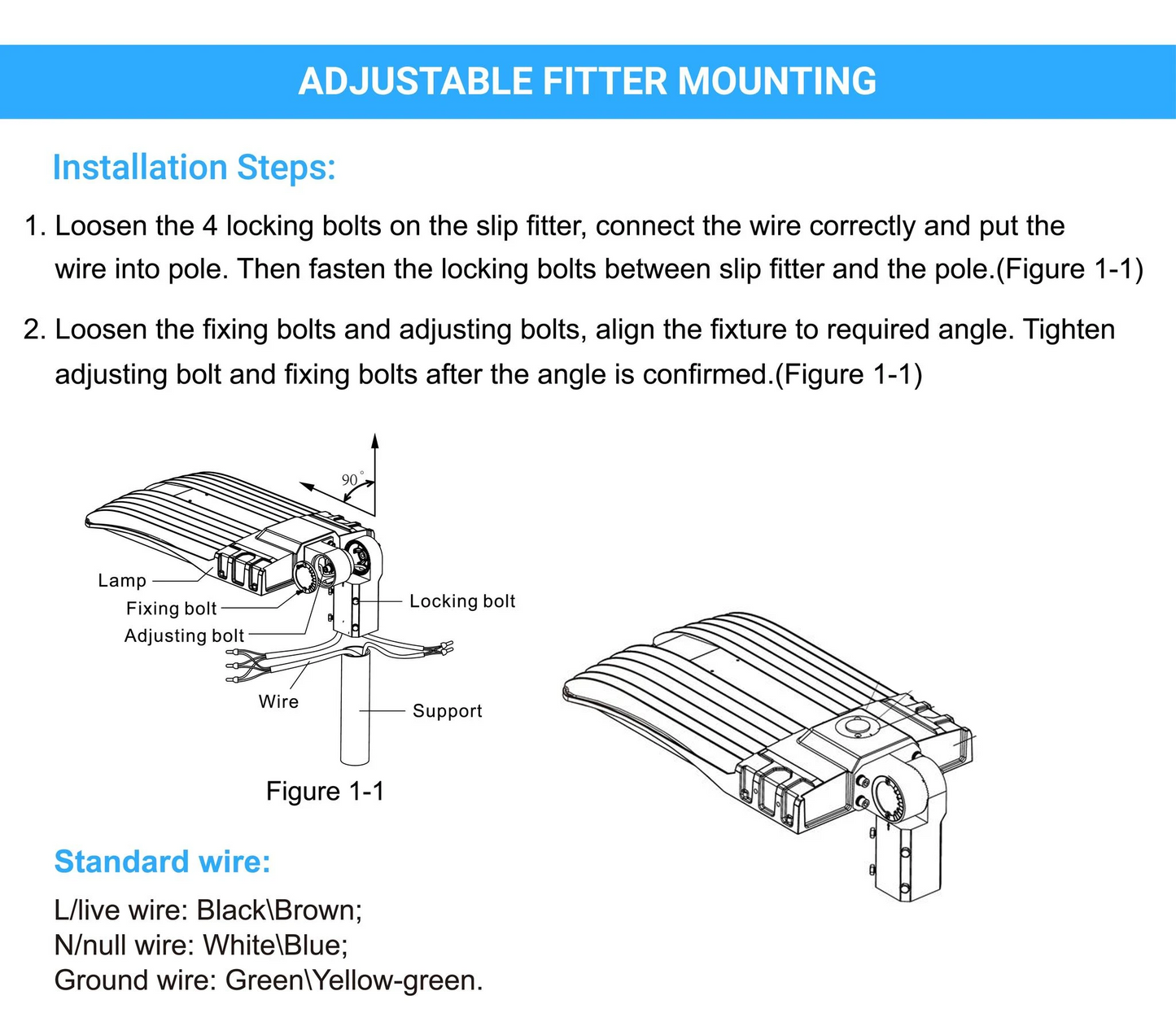 200W LED Parking Lot Lights, UL, DLC Listed, Bronze, LED Shoebox Area Yard Street Light - Commercial Outdoor Light
Engineered to increase safety and security outdoors, the LED lamp provides energy-efficient illumination for boulevards, parking lots, parkways & pathways. This sealed fixture is dirt and bug-free. The LEDMyplace waterproof outdoor LED retrofit lamp is designed to replace metal halide fixtures of up to 700 Watts while marking down the energy consumption by 80%. Once installed, the fixture virtually eliminates the maintenance for another 45,000h of use! Switching to LED Pole Light can help the typical business save about $1,000 over a 10-year period. That's roughly $8.33 a month.
Features OF 200W LED Pole Light Fixtures; 5700K; Universal Mount; Bronze; AC100-277V
Available Wattage: 200W
Color Temperature Available: 5700K
Luminous Flux Available: 28000 Lumens [140 lumens/watt]
Wattage Equivalent: 700W
Lifespan - 50,000 hours
Voltage: 120V - 277V
Color: Bronze
Mounting Option: Universal Mount [Slip, Direct and Adjustable Mount]
IP65 Rated
cULus, DLC approved
5 years of Manufacturer's Warranty
Easy Installation:
Extremely easy to install, these lights come with a universal mount, giving you the option to install them in any desired location be it a yoke, adjustable slip fitter, knuckle mounting, or just a plain wall.
Universal Mount (All in One)
LEDMyplace offers one of the best mounting options that lowers your installation costs by enabling a hassle-free, easy self-installation. This is suitable for both kinds of poles - round, square and also for wall mounting with flexibility to adjust the head. Apart from easy self-installation, the universal mounting option also reduces your time by not requiring any re-drilling or cutting any pole tops when allowing for a change in the mounting process. With just two holes inside the poles and with just two bolts, you can easily undertake Universal Mounting. Our 200W LED pole light luminaire thus enables mounting in two ways -- vertical and horizontal. And, what you get out of these options is -- an enhanced optical control and to a certain degree the luminaire efficiency.
An IP65 Rating for Water-Resistance:
This LED pole light comes with an IP65 certified driver that can withstand harsh weather conditions. The lighting fixture is designed and tested to resist ingress of dust, dirt, or water (from the water jet or rainfall) making them dust and splash-proof. Hence, these LED Pole lights are ideal to use in outdoor locations where there are chances of dust, dirt, and dampness.
Polycarbonate Optics - For Optimal Performance and Durability:
Polycarbonate is used as an outer coating for our LED Pole light which results in optimal lighting performance and durability. The polycarbonate is responsible for dimensional stability, and high resistance towards external heat and any other impact.
Rugged Construction:
LED Pole lights have a robust build and simple design. With rugged aluminum casing on the outside, our outdoor area lights are built for durability. These lights can handle wind, dust, moisture, or snow. With a sturdy build and a tested lifespan of 50,000 hours our LED lights are a superior luminaire compared to HID or metal-halide lamps.
Thermal Heat Dissipation:
The High performance modular LED street light fixtures are engineered to remove heat through quality thermal management. For efficient and effective dissipation of heat, aluminum is used in the heat sink inside these high voltage pole lights. Being a good conductor aluminum can dissipate heat more easily. Giving these lights better durability and performance.
Ultra Wide Angle Lens
The PCB mounted LED technology comprised of multi-cluster LED's on single metal core board and is available in various color temperature options of 3000K, 4000K and 5700K with CRI of 70 minimum.Polycarbonate prismatic optics ensure longevity and maximise dirt and bug resistance. Zero uptight optics reduce sky glow and meets Dark Sky requirements. Our special polycarbonate optics provide overlapping pattern on application space eliminating dark spots. The use of ultra wide angled polycarbonate optics provides high application efficacy, uniformity, and glare control, with more uniformed light distribution, especially over wide areas and spaces.
Premium LED Chips:
Customer satisfaction is our first priority, that's why we ensure the best quality by using premium quality chips inside our LED light fixtures making them work with the highest operational efficiency.
Dimmable
The dimmable fixtures are the ideal replacement for traditional incandescent metal halide bulbs in terms of light quality, output, and compatibility. LEDMyplace's wide array of dimmable lighting results in easy to adjust light intensity at the location. Even at very minimal light levels, these Pole Lights remain stable and pure.
>70 CRI:
The LED Pole light has a Color Rendering Index(CRI) of 70, which means the colors you see under this light are accurate up to 70% compared to daylight(CRI=100).
Low-Cost Maintenance:
The LED pole lights are extremely low maintenance as it uses the latest LED technology. Moreover, with a low lumen depreciation, these lights function flawlessly until the end of their lifespan reducing maintenance costs.
Vibration Test Pass
Our luminaries are extensively tested for resistance to vibration. All our LED Pole Lights have cleared pre-qualified tests for vibration. The vibration testing ensures that our LED fixtures do not have any loose parts, structural damage, power off and other anomalies. Two bolt horizontal arm mount with 180 degrees vertical adjustment provides 3G vibration rating equivalent to ANSI C136.
Rebate Eligible:
LED pole lights are DLC-approved products, which makes you eligible for rebates and other incentives.
Compatible Dimmers
This product is compatible with the following dimmers. These dimmers work perfectly with our lights.
DS710
IP710
NTSTV-DV
NFTV
DVTV-WH
H4FBL3PW
**For any other Dimmer please contact our customer support or check with your electrician.
Specifications
| | |
| --- | --- |
| Beam Angle: | 150x85° Beam Angle |
| CCT: | 5700 Kelvin |
| Color Rendering Index(CRI): | >70 CRI |
| Dimensions (L x W x H): | 29.7 x 15.2 x 6.3 |
| DLC Listed: | Yes |
| Housing: | Aluminum |
| Life Hours: | 50,000 Hours |
| MPN (Part No.): | PL020 |
| Replaces: | 700 Watt Replacement |
| Voltage: | 120-277 Volt |
| Wattage: | 200 Watt |
| | |
| --- | --- |
| Brand: | LEDMyplace |
| Certifications: | UL, DLC Listed |
| Color Temperature (Kelvin): | 5700 Kelvin |
| Dimmable: | 1-10V Dimmable |
| Fixture Color: | Bronze |
| IP Rating: | IP65 Rated |
| Lumens: | 28000 Lumens |
| Power Factor: | ≥0.9 |
| SKU: | WEN-S-G07-200WCT3A1-BRA&D5700K-NO-PCELL |
| Warranty: | 5 Years |
| Operating Temperature: | -4 Degree F To +113 Degree F |
Product Review
Questions & Answers
Have a Question?
Be the first to ask a question about this.
Ask a Question
Choosing a selection results in a full page refresh.