Hybrid T8 4ft LED Tube/Bulb - 22w/18w/15w/12w Wattage Adjustable, 130lm/w, 3000k/4000k/5000k/6500k CCT Changeable, Clear, Base G13, Single End/Double End Power - Ballast Compatible or Bypass
- 1pc
Hybrid T8 4ft LED Tube/Bulb - 22w/18w/15w/12w Wattage Adjustable, 130lm/w, 3000k/4000k/5000k/6500k CCT Changeable, Clear, Base G13, Single End/Double End Power - Ballast Compatible or Bypass
- 1pc
30 Days Return
5 Years Warranty
Share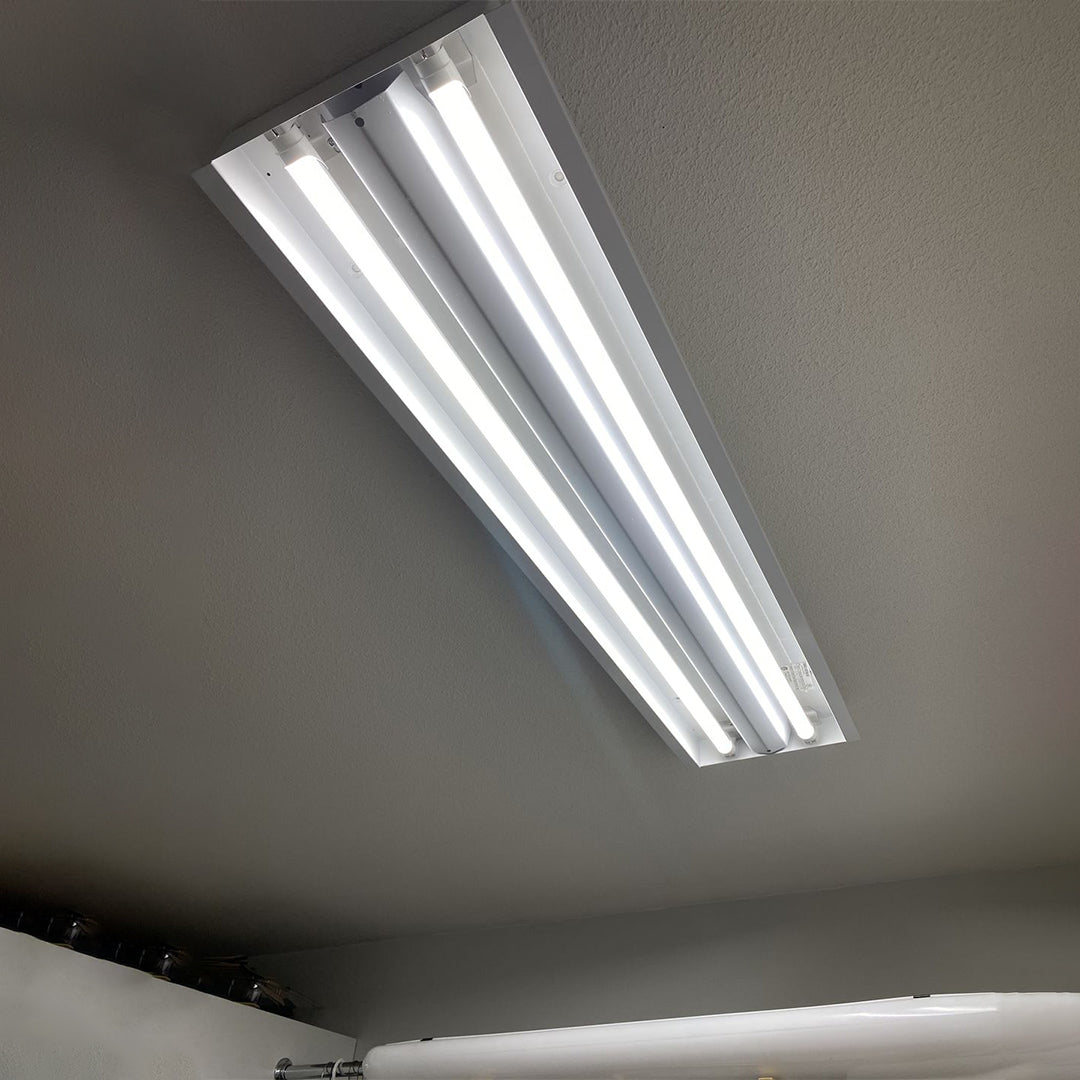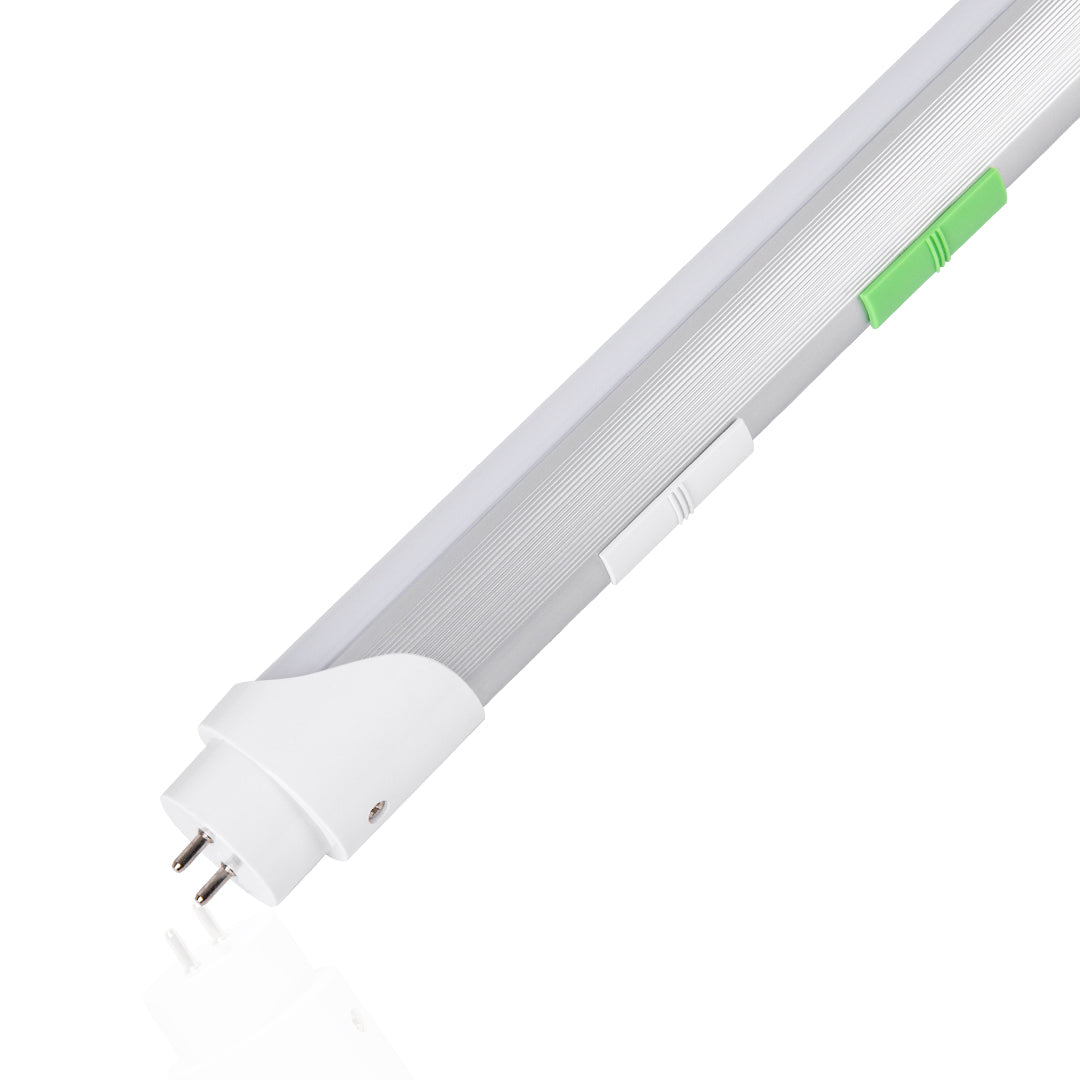 4ft LED Tube - 2800 Lumens - 20 Watt - 70W Equivalent - 6500 Kelvin - Clear - Ballast Compatible
The ballast compatible T8 4ft 20W LED tube as a clear tube with 6500K color temperature and a CRI of >80 can deliver lumens up to 2800 . It is an excellent substitute for T8, T10 & T12 fluorescent tubes. This 20W can safely and easily replace the fluorescent tubes of 70W and bring energy-savings of 50W. Thus, a lower utility bill for you every month. This 20W can work with ballast and hence the existing fluorescent tube should be taken out and the LED tube must be put in its place. However, you must ask us for a ballast compatibility list. These 20W LED tubes are housed in rugged die-cast aluminum for efficient heat dissipation. For the standard ceiling height, these LED tubes having a beam angle of 120 degrees, emit enough bright light, have a long lifespan, and have a shatterproof coating unlike the fluorescent tubes that were of inferior light quality, typically low lifespan, and usually with no shatterproof. One of the best things about LED tubes from LEDMyplace is they are ETL listed.
Features of 20W T8 4ft LED Tube Light:
Available Wattage: 20 Watt
Available Size: 4ft
Available Color Temperature: 6500K
Luminous Efficacy: 130-140 Lm/W
Wattage Equivalent: 70W
Lifespan - 50,000 hours
Ballast Compatible [not compatible with every ballast. please ask for a compatibility list]
Voltage: 100V - 277V
ETL Listed
5 years of Manufacturer's Warranty
Ballast Compatible
The LED tubes that can work with the existing fluorescent tubes do not need any change in the circuit for power supply and hence it is easy to install such LED tubes. But, you just have one disadvantage with such ballast-compatible LED tubes and that is -- the ballast consumes extra power and if the ballast fails, you will need to undergo through ballast replacement in the event that it fails. You need shunted sockets for plug-and-play.

Flicker Free
Whether it's 2ft, 4ft or 8ft LED tube, one of the jaw-dropping features of LED tubes is that they don't flicker unlike what you would have definitely observed in case of fluorescent tubes. The LED tubes start instantly and once they start, they don't flicker and produce a humming sound.
IP22 Rated
The LED tubes that are either clear or frosted have an IP22 rating. This rating signifies that our LED tubes are protected against dust-tight (objects in the dust that are of size more than 1mm) and protected against water-ingress from all directions. For such reasons, LED tubes are safe for use in areas where there is moisture and water. E.g. Bathrooms, kitchens etc.

Voltage Input
The LED tubes accepts an input voltage of 100V-277V. You can go for a waterproof transformer in case you don't have this voltage and wish to convert this voltage range to some other.
Low Maintenance Cost
The LED tubes will require low or no maintenance if you are going for a ballast bypass option of LED tube installation. Though not very frequent, but you may have to replace the ballasts once in the total lifetime of LED tubes, if you are going for ballast compatibility option and hence you will have to bear with slightly higher maintenance costs when choosing the former option.

>50,000 Life Hours
The lifespan of LED tubes is no less than 50,000 hours or 5.7 years, if the tubes are operated upon for 24 hours a day. Can last longer, if the tubes are kept ON for only 12 hours a day.

CRI >80
The CRI being greater than 80 for LED tubes, whatever object comes in the light distribution range appears to be real and natural up to 80% extent on a CRI scale of 1-100 and as it would have appeared in the natural light.
120 Degree Beam Angle
The 120 degree or ultra wide beam angle is made use of when large areas need to be covered. All our LED tubes whether clear or frosted have a 120 degree beam angle.
Energy Saving
The LED tubes can save energy up to 75% in extreme contrast with fluorescent tubes that consume lot of energy to bring you a higher energy bill. We highly recommend going for our LED tubes that are an excellent combo of lumen brightness and energy-savings.

Aluminium Heat Sink
The LED tubes have a big heat sink made of aluminium and that's a pretty good reason as to why the LED tubes don't warm up too soon to be in consistent operation. This is in extreme contrast with the fluorescent tubes that warmed up too soon and required cooling down to operate efficiently.

LED Chip
Embedded inside the LED tube is a high quality standalone chip -- SMD LED -- made from many number of chips to ensure high performance and reliability.

Specifications
| | |
| --- | --- |
| Base Type: | G13 |
| Brand: | LEDMyplace |
| Color Rendering Index(CRI): | >80 CRI |
| Dimensions (L x W x H): | 47.75 x 1.15 x 1.32 |
| DLC Listed: | No |
| IP Rating: | IP22 Rated |
| Light Distribution: | 130-140 Lm/W |
| MPN (Part No.): | TB060 |
| Replaces: | 70 Watt Replacement |
| Voltage: | 100-277 Volt |
| Wattage: | 20 Watt |
| Operating Temperature: | -68 Degree F To +122 Degree F |
| | |
| --- | --- |
| Beam Angle: | 120° Beam Angle |
| Certifications: | ETL Listed |
| Color Temperature (Kelvin): | 6500 Kelvin |
| Dimmable: | No |
| Housing: | Aluminum + Plastic |
| Life Hours: | 50,000 Hours |
| Lumens: | 2800 Lumens |
| Power Factor: | >0.95 |
| SKU: | BCWEN-T8F1222T02(6500K) |
| Warranty: | 5 Years |
| Wiring: | Single End / Double End , Plug n Play or Ballast Bypass |
Product Review
Can they work without the ballast, i will remove the ballast)

Yes, it will work without the ballast as well

Can you give me an idea of when this will be back in stock? Ballast Compatible T8 4ft 20W LED Tube 3000 Lumens 6500K Clear

These lights are back in stock. You can order them now.
Choosing a selection results in a full page refresh.