Hybrid T8 2ft LED Tube/Bulb - 8W 1120 Lumens 5000K Clear, Single End/Double End Power - Ballast Compatible or Bypass (Check Compatibility List)
- 1-Pack
Hybrid T8 2ft LED Tube/Bulb - 8W 1120 Lumens 5000K Clear, Single End/Double End Power - Ballast Compatible or Bypass (Check Compatibility List)
- 1-Pack
30 Days Return
5 Years Warranty
Share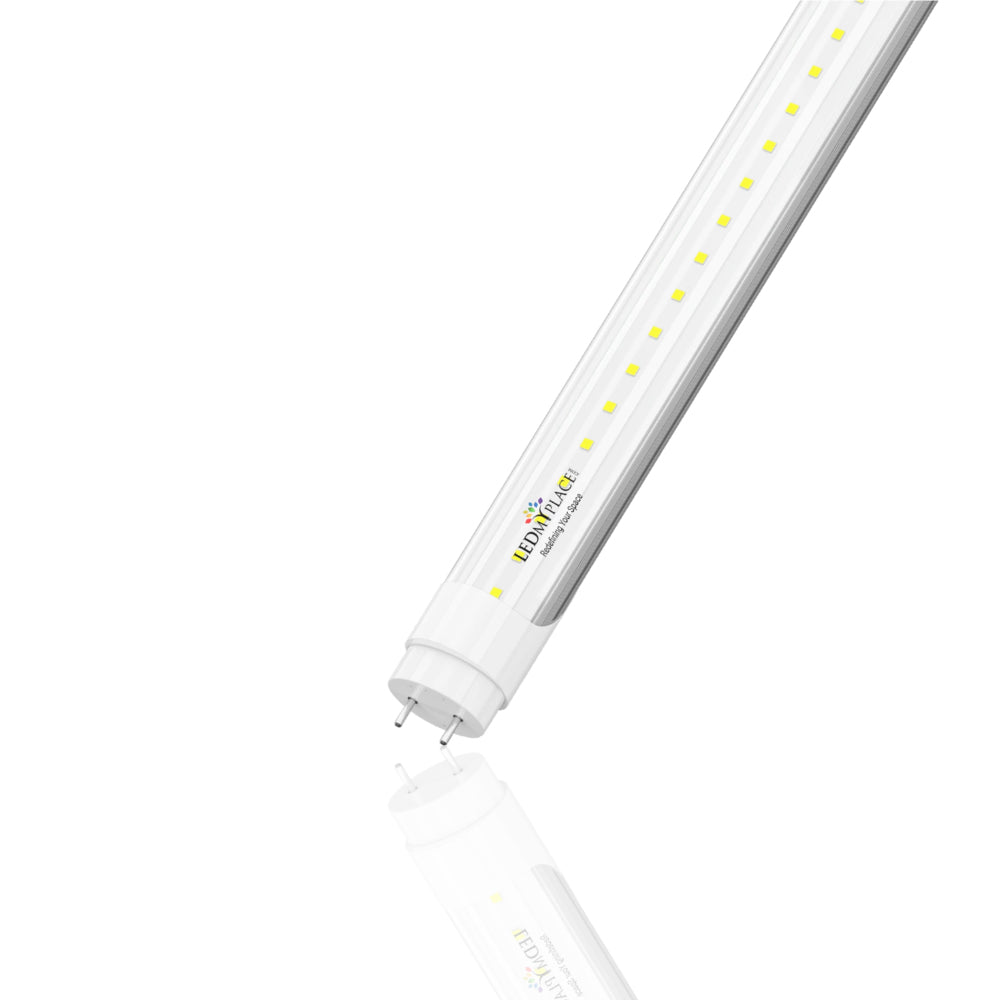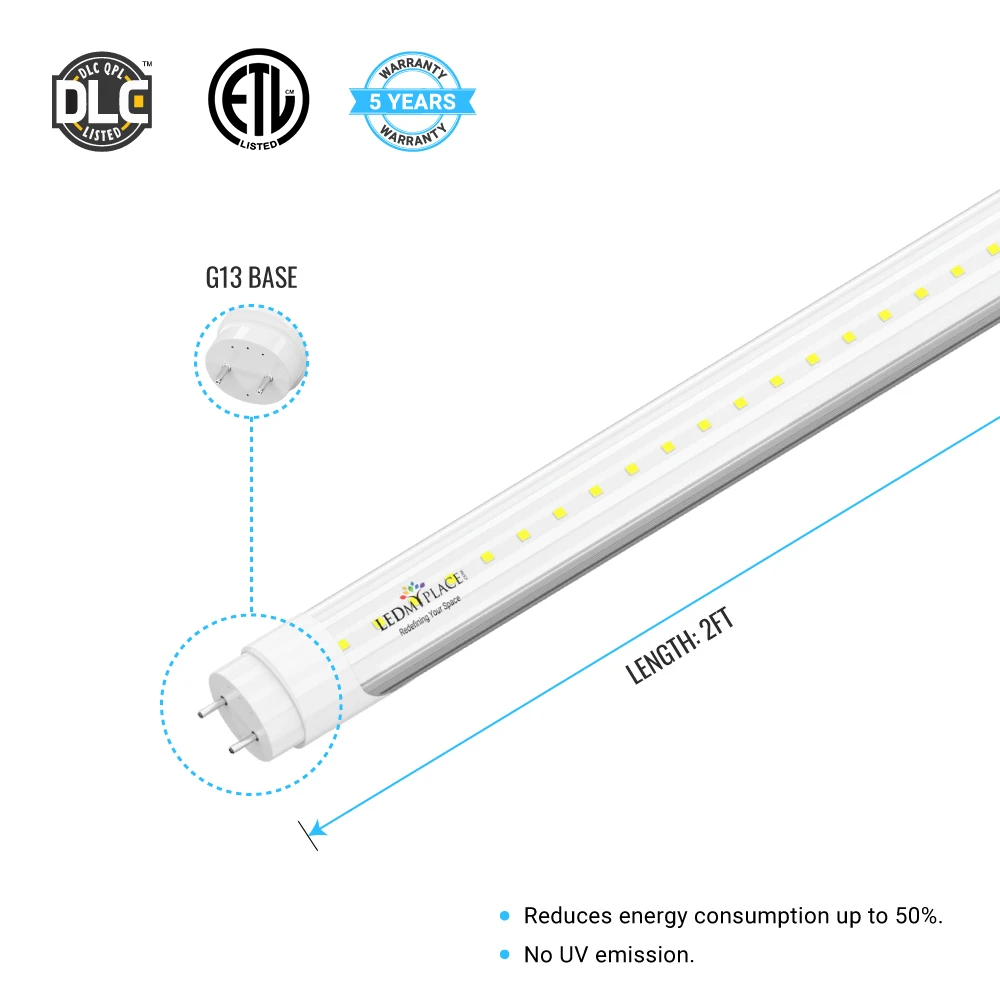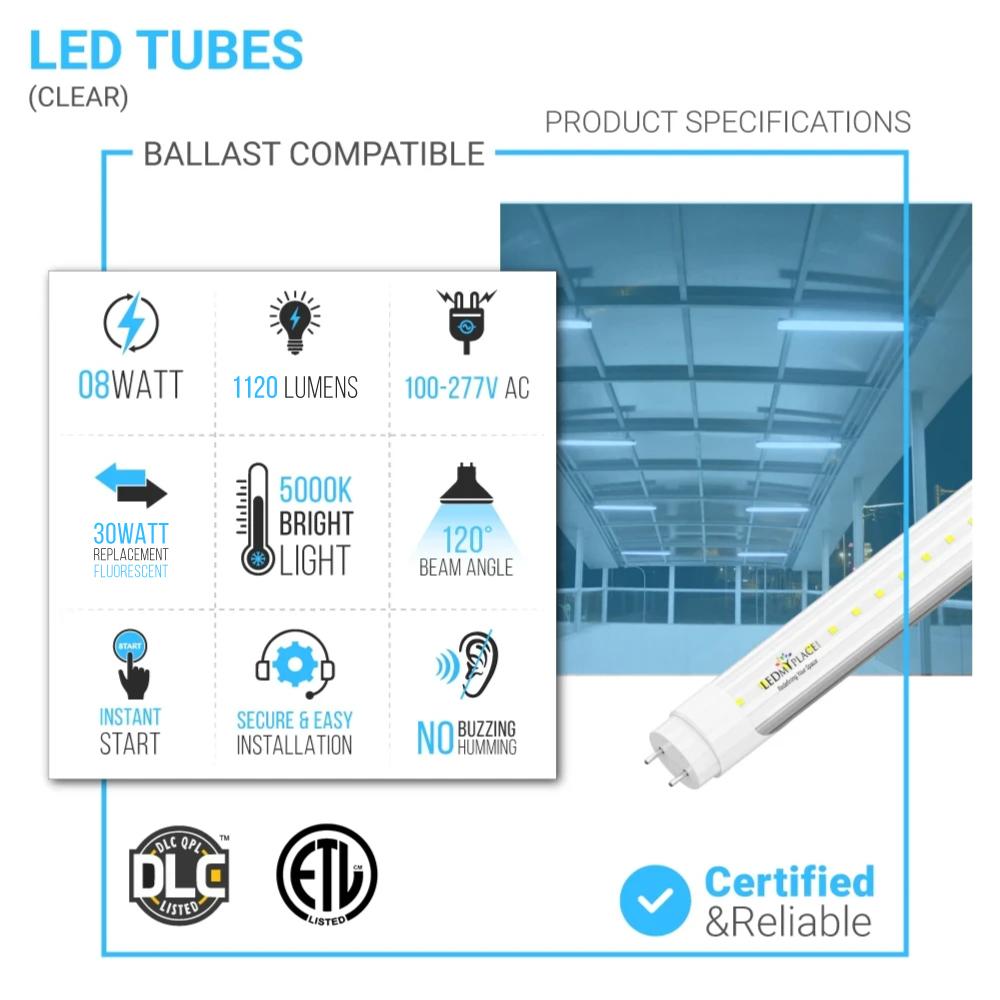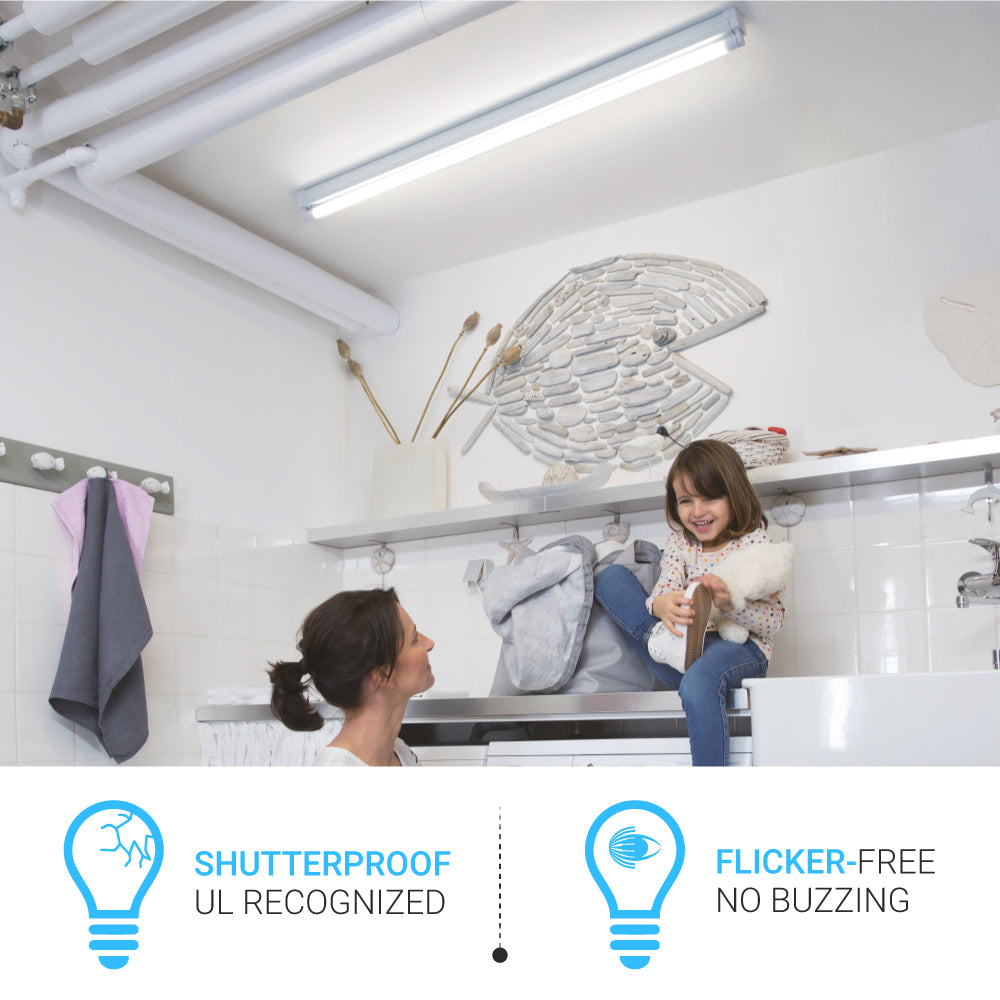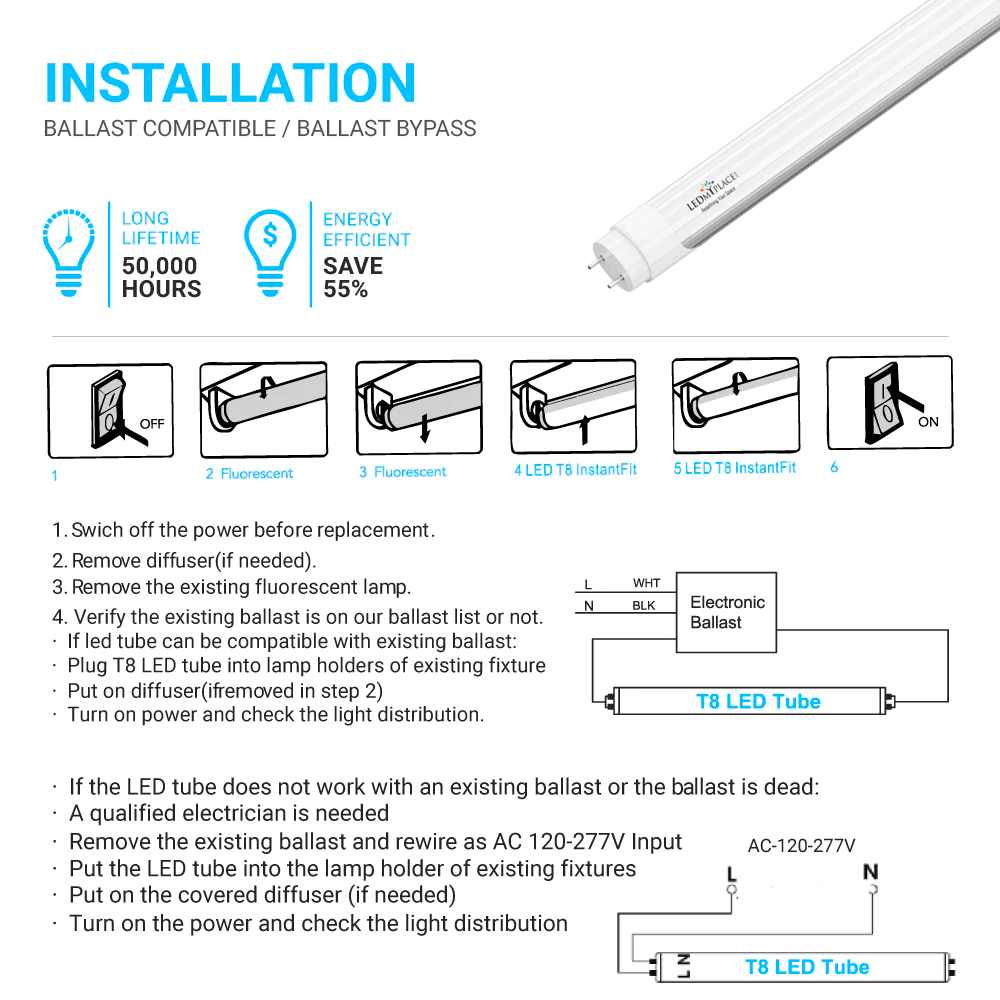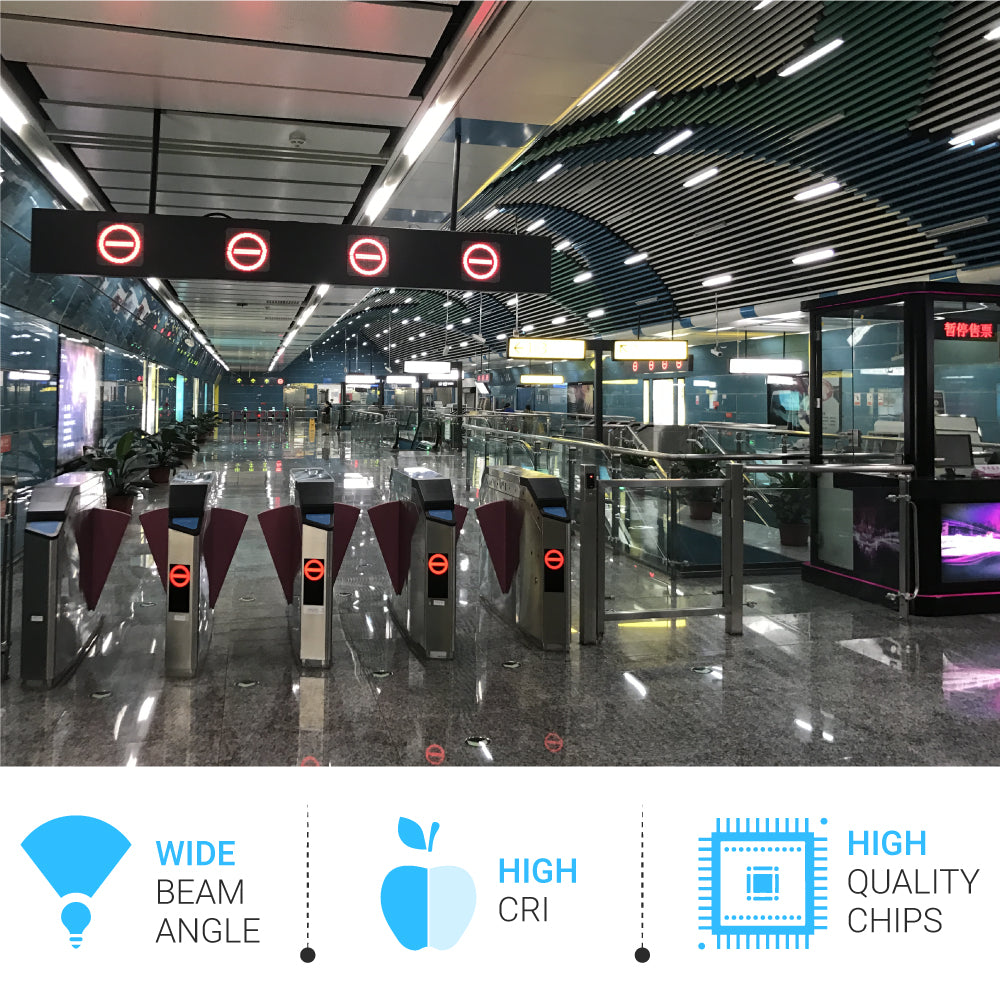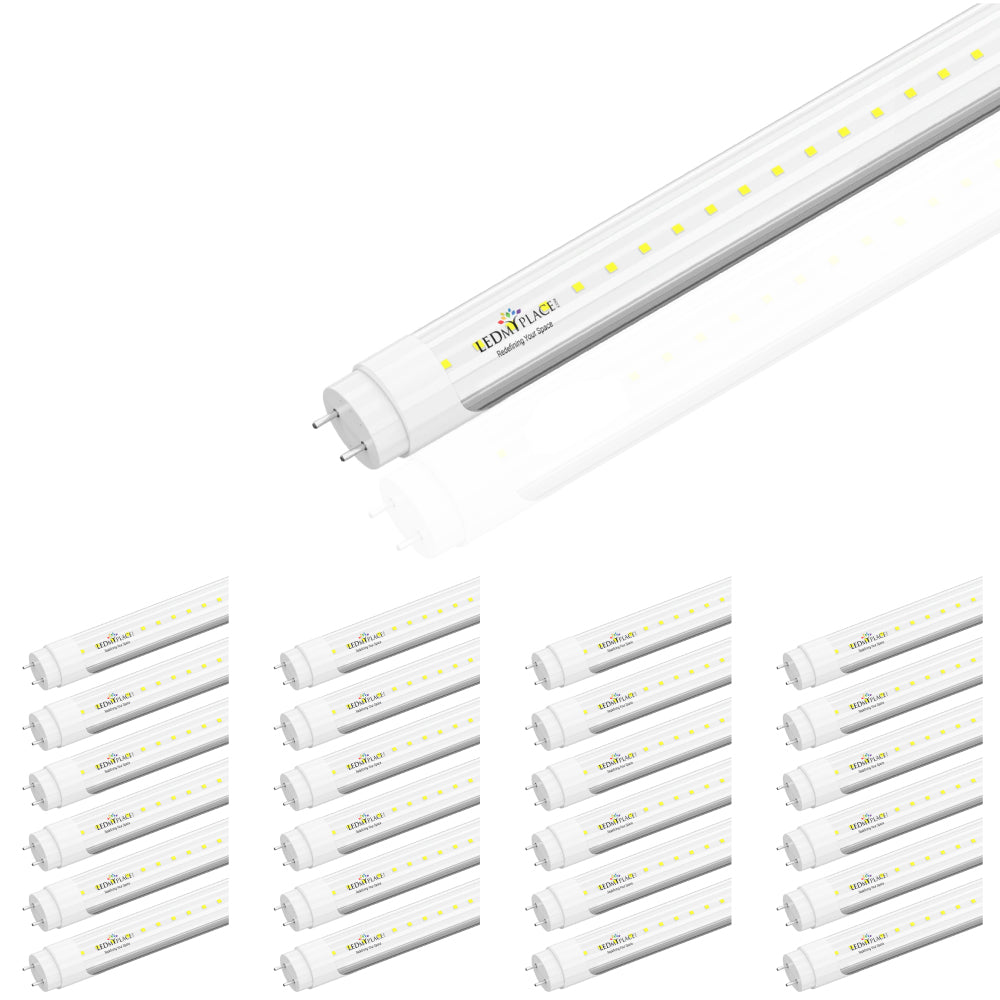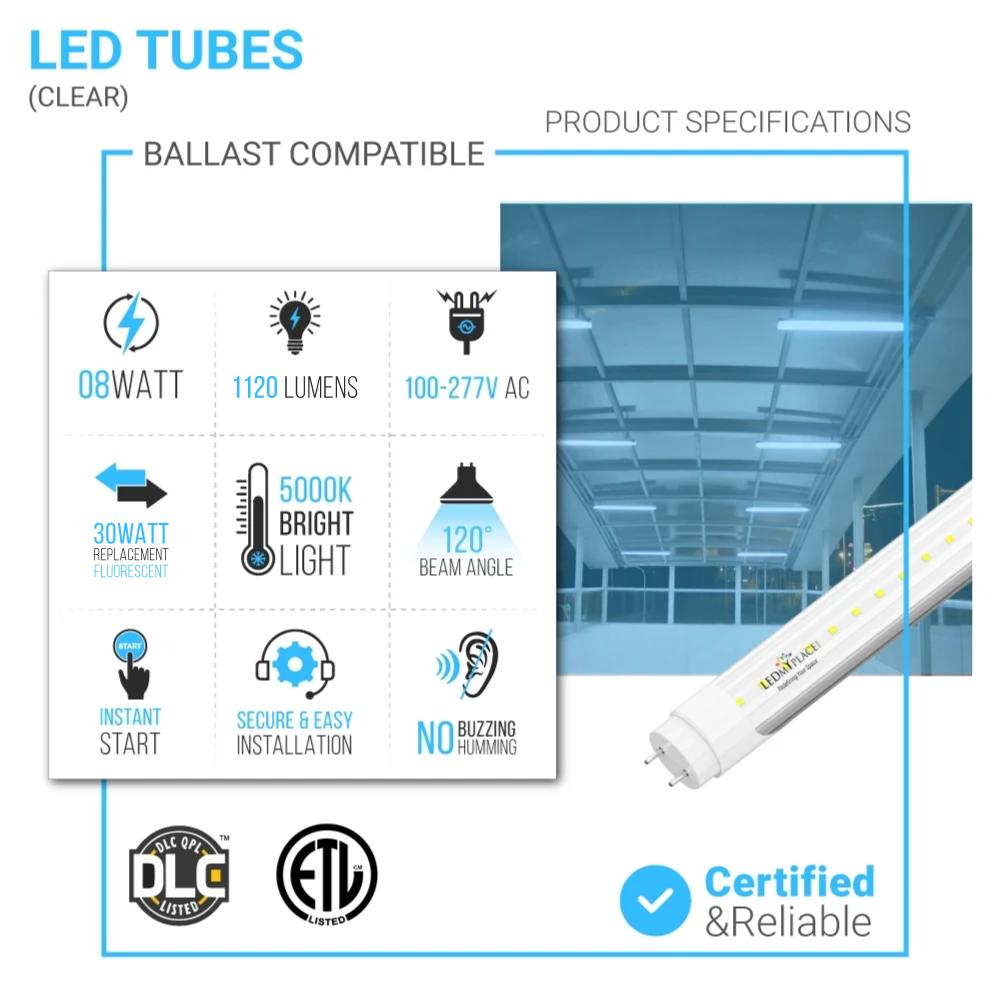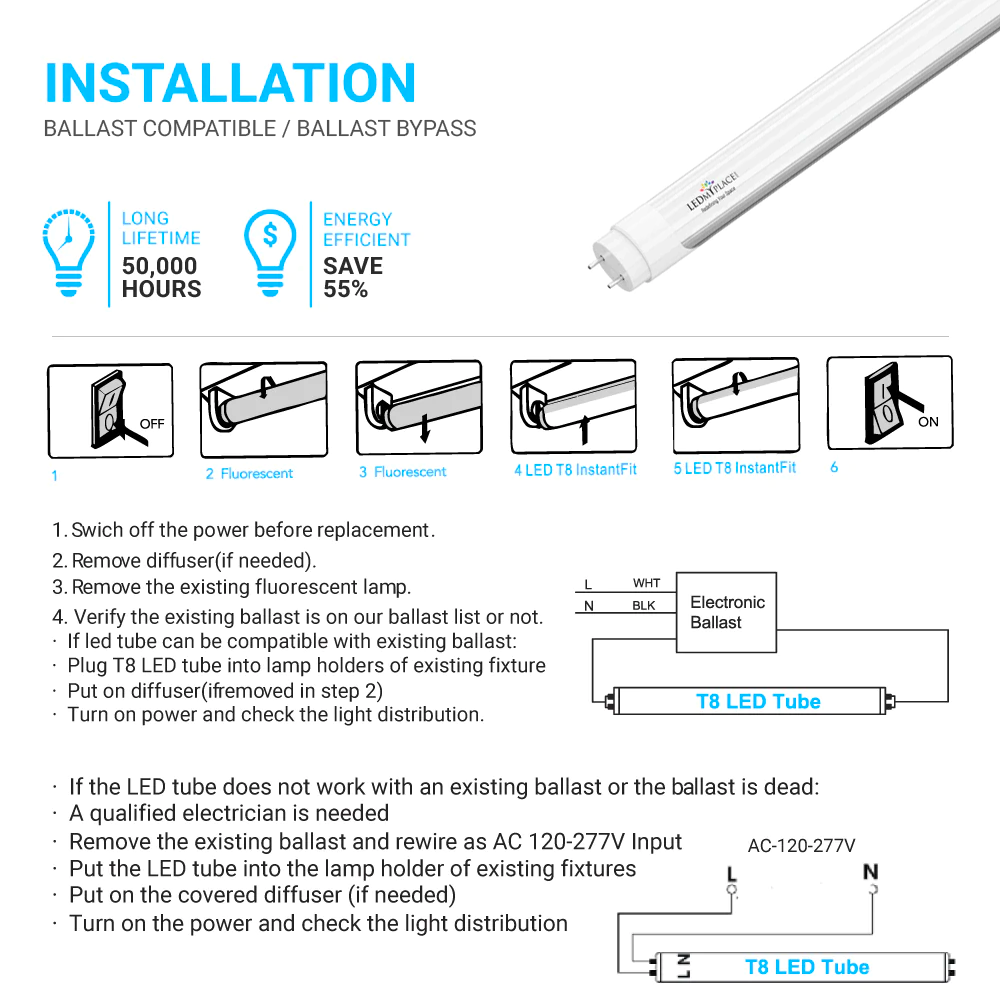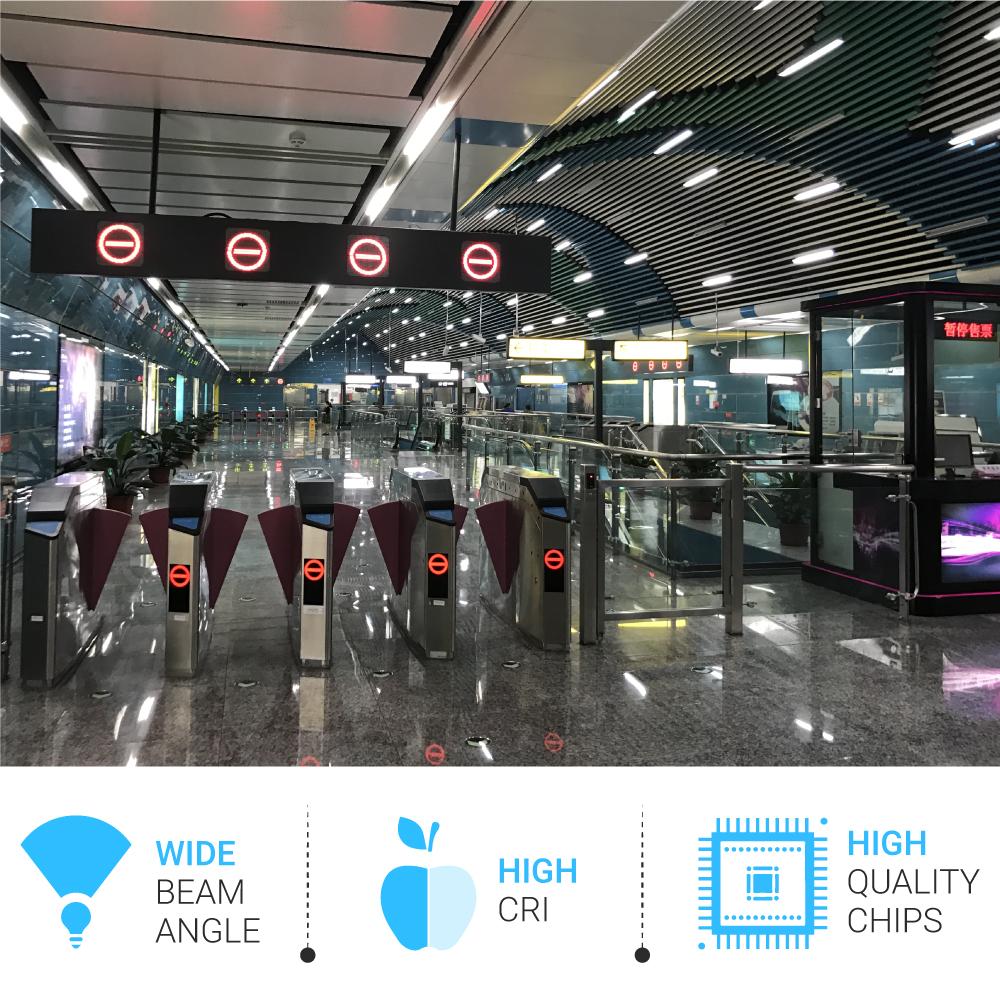 T8 2ft LED Tube - 1120 Lumens - 8 Watt - 30W Equivalent - 5000 Kelvin - Clear - Ballast Compatible
The 2ft LED tube from LEDMyplace is available in 8W with 5000K color temperature and can deliver 1120 lumens. This 2ft LED tube can easily replace 30W of any 2ft T8, T10, and T12 fluorescent tube, able to bring you 75% of energy savings. This LED tube as the clear tube can work only with compatible ballast and so you need to check with us for a ballast compatibility list. The lifespan of this LED Tube is far longer (about 3-4 times) than the fluorescent tube and hence a preferred source of lighting in many applications. This 2ft LED tube has the external coating of a polycarbide for adequate durability. It has an internal heat sink made of aluminum for excellent thermal management and hence easy to operate and maintain. Starts instantly and is fairly easy to install. As UL & DLC Premium rated product, this product also makes you eligible for rebates and 5 years of the warranty period.
Features of 2 Foot LED Tube, 8W, 5000K, Clear Cover, DLC Listed,
Available Wattage: 8W
Available Size: 2ft
Color Temperature Available: 5000K
Luminous Efficacy: 130-140 Lm/W
Wattage Equivalent: 30W
Lifespan - 50,000 hours
Ballast Compatible [not compatible with every ballast. please ask for a compatibility list]
Voltage: 100V - 277V
ETL, DLC Listed
5 years of Manufacturer's Warranty
Ballast Compatible
The T8 2ft LED Tube as clear tube being compatible with most fluorescent ballasts (electronic or magnetic), the installation has become much easier than ever before when you just need to swap your existing fluorescent tube with our 2ft LED tube. Without the ballast compatibility, it is not possible to achieve the specified lumen output and the specified life expectancy. One of the benefits that you get by having a 2ft LED tubes from LEDMyplace is -- by being ballast compatible, they can utilize the existing ballasts of the fluorescent tubes to provide us the desired light output when any re-wiring of the luminaire to the line source is not required.
Flicker Free
Whether it's 2ft, 4ft or 8ft LED tube, one of the jaw-dropping features of LED tubes is that they don't flicker unlike what you would have definitely observed in case of fluorescent tubes. The LED tubes start instantly and once they start, they don't flicker and produce a humming sound.
Voltage Input
The input voltage acceptable to our 2ft LED tube is 100-277V.
Low Maintenance Cost
You save money in two ways:
You save around 75% in energy by switching to our 2ft LED tube from your conventional fluorescent tubes.
Now, no more replacement needed for having consistent lighting at your premise for as long as the tube lasts. You not only get rid of the replacement costs but also the labor costs of installing or retrofitting your LED tubes.
>50,000 Life Hours
Our LED tubes are designed to last longer, about 4-5 times longer than any fluorescent tube (considering the lifespan of a fluorescent tube as 15,000 hours). Also, now you can have maintenance-free lighting for 50,000 hours if you operated the tube for 24 hours. But, this 2ft LED tube can last longer than even 50,000 hours if operated for a maximum of 12 hours.
A longer lifespan also means lower emissions of carbon and thus better care of the environment.
CRI >80
The CRI is greater than 80 for LED tubes, whatever object comes in the light distribution range appears to be real and natural up to 80% extent on a CRI scale of 1-100 and as it would have appeared in the natural light.
120 Degree Beam Angle
The 2ft LED tube has a beam angle of 120 degrees or higher. Hence, it can be used to illuminate larger areas leaving no dark spots behind and works great when installed in rooms with high ceilings.
Our 2ft LED tube having an ultrawide beam angle provides the user with a very clear and bright light hence if more than 1 tube is used, you can allow for more space between the two or more tubes.
Energy Saving
The LED tubes can save energy up to 75% in extreme contrast with fluorescent tubes that consume lot of energy to bring you a higher energy bill. We highly recommend going for our LED tubes that are an excellent combo of lumen brightness and energy-savings.
Aluminium Heat Sink
Our 2ft LED tube has been put to rigorous tests towards dissipation of heat and it has shown excellent thermal properties. The 2ft LED tube has a thick aluminum heat sink to dissipate heat effectively.
LED Chip
Embedded inside the LED tube is a high-quality standalone chip -- SMD LED -- made from many numbers of chips to ensure high performance and reliability.
Rebate Eligible
The LED tubes were one of the first LED lighting products to have become rebate eligible. All our LED tubes are DLC approved to make you eligible for rebate.
Specifications
| | |
| --- | --- |
| Base Type: | G13 |
| Brand: | LEDMyplace |
| Color Rendering Index(CRI): | >80 CRI |
| Dimensions (L x W x H): | 23.74 x 1.15 x 1.32 |
| DLC Listed: | Yes |
| IP Rating: | IP22 Rated |
| Life Hours: | 50,000 Hours |
| MPN (Part No.): | TB050 |
| Replaces: | 30 Watt Replacement |
| Voltage: | 100-277 Volt |
| Wattage: | 8 Watt |
| | |
| --- | --- |
| Beam Angle: | 120° Beam Angle |
| Certifications: | ETL, DLC Listed |
| Color Temperature (Kelvin): | 5000 Kelvin |
| Dimmable: | No |
| Housing: | Aluminum + Plastic |
| LED Type: | 2835 |
| Lumens: | 1120 Lumens |
| Power Factor: | 0.95 |
| SKU: | WEN-T8-2FT-10WC5000k |
| Warranty: | 5 Years |
| Operating Temperature: | -4 Degree F To +113 Degree F |
Product Review
Will these work to replace an existing F15T8 bulb that is driven by a magnetic ballast with a FS-2 starter?

These tubes only work with certain ballasts and I've attached a Compatibility list below. If your ballast is not on the list, it'll need to be removed and then the tube can be wired as single or double-ended power.
Compatibility Sheet

If I'd like to direct wire these (bypass the ballast), are they double sided or single sided?

This LED tube as the clear tube can work only with compatible ballast and so you need to check with us for a ballast compatibility list updated on our website.

I HAVE 24" FAT TUBES NOW WITH THIS WORK WITHOUT CHANGING ANYTHING

these are compatible with most electronic ballasts hoever incase it's incompatible you always bypass the ballast . these tubes work with or without ballasts.
Choosing a selection results in a full page refresh.