4-inch Dimmable LED Downlights - 10W, Retrofit, CRI 90+
4 in. Retrofit Dimmable LED Downlight - 600 Lumens - 10Watt - 65W Equal - 3000 , 4000 & 5000 Kelvin - Baffle Trim Design - 5 Year Warranty
The 4 inches LED downlight of 10W with an ability to deliver 600 lumens is available as a dimmable downlight. The LED downlight beats the conventional halogen downlights in terms of energy efficiency, the light distribution because of its ultrawide beam angle, the color rendering ability, lifespan, and operational efficiency.
The halogen downlight of 65W can easily be replaced with this 10W dimmable LED Downlight helping you to cut down your utility expenses by 88%. This lighting fixture being dimmable gives you an additional option of saving energy. The baffle trimming design of this downlight is one of the most popular designs among the users and helps reduce glare. A high CRI allows you to view the objects as they appear in natural light. Being ETL approved, this luminaire also makes you eligible for certain rebates & incentives. You get not less than 5 years of warranty from the manufacturer on this product.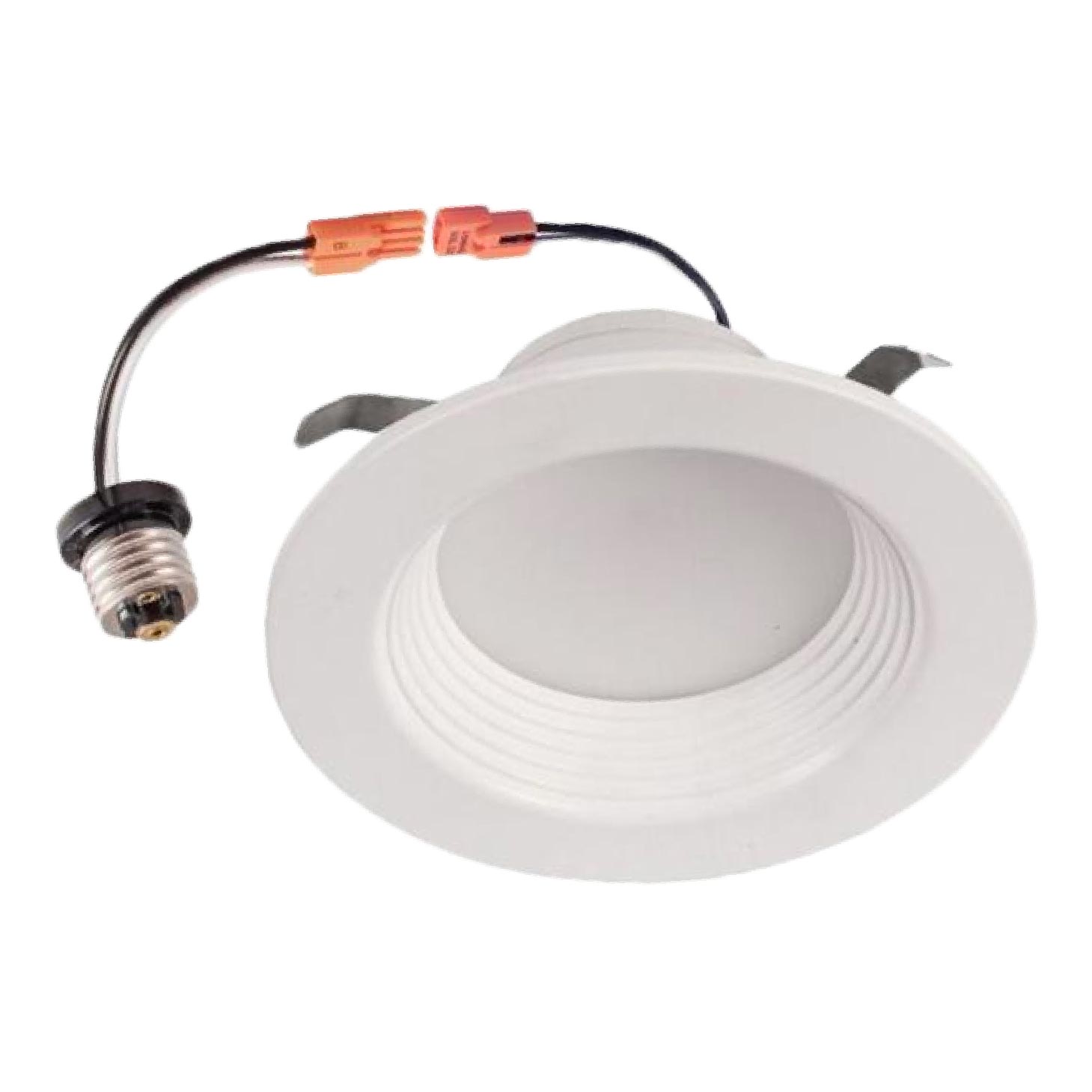 Contemporary, sleek designs: The LED dimmable downlight adorns your office, home or store in many different ways because of its availability in many different designs that suits modern spaces. They impart an aesthetic look and feel to any living space.
Color Temperature Options: This downlight is available in 3000K, 4000K & 5000K allows you to have ambient lighting, task lighting, and display lighting.
A High CRI: A luminaire with a lower CRI than the standard (80) enables objects and surfaces look unreal and exaggerated. This downlight with a CRI of 90 imparts authenticity to objects in view and makes them look as real as if they were placed under sunlight.
Energy-Saving: By making a switch from traditional halogen light to modern LED downlight, at least 88% of energy can be saved, thus saving you from paying extra for extra energy consumption.
Dimmable: By dimming a luminaire, you not only change the ambiance or setting of the room but also save energy by few watts.
A Time-Saving Luminaire: The dimmable LED downlight lights up instantly without any delay and without any buzzing noise or flickering as is observed in case of dimmable halogen lights.
Easy To Install & Operate: Can be easily installed without much hassle.
50,000 Hour Lifespan: The lifespan of dimmable LED downlight when compared to halogen downlights lasts at least 25 times longer than halogens thus bringing the maintenance costs of dimmable LED downlight down and no replacement cost.
An Environment-Friendly Luminaire: No hazardous waste materials found in our dimmable LED downlight and hence environmentally very safe.
5 Years Warranty period: Any problem with the product, know that there's a 5 year warranty period from the manufacturer's end.

Easy Installation
The installation of this dimmable LED downlight takes place in easy steps with first switching off the power supply and then taking out the existing downlight from the fixture. Next, you must twist the adapter in the socket and then insert the connector into the socket. Insert the dimmable LED downlight trip.
Make sure, you have a compatible dimmer installed for our dimmable LED downlight to dim appropriately. For details, you must read the instruction booklet. If not able to self-install, you must consult an electrician.
No Dark Spot
Nowhere you will find any dark spot when using this dimmable LED downlight in its full non-dimming mode. The light distribution is uniform and even with the light spread at a wider beam angle.
CRI >80
The Color Rendering Index is a measurement of the light source to display the color of objects accurately, realistically and naturally. With reference light as daylight or natural light, CRI is measured on a scale of 0-100. LED lighting products usually have a CRI of 70 or above 70 with different indexes useful to different applications. A CRI of >80 for dimmable LED downlights mean they are good for retail or any other commercial application when the objective is to accurately display the merchandise.
Ultra wide Beam
The dimmable LED downlight utilizes a wide beam angle of 120-degree to illuminate large spaces when your objective is to have a non-directional light. The distribution of light is in such a way that no specific objects are highlighted and rather the light distribution is uniform and even.
Slim & Sleek Design
This dimmable LED downlight is available in slim & sleek design to allow for easy mounting on low ceilings and in spaces where only ultra-thin lights can be accommodated.
Rugged Construction
The housing for this dimmable LED downlight is made of rugged die-cast aluminium for better durability.
UV And Mercury Free
The dimmable LED downlight is free from any ultra-violet radiation that may interfere with the immune system of the human body, cause skin cancer and many other diseases including that of the human eyes.
E-26 Base
The dimmable LED downlight with a base E-26 means an Edison Screw of 26mm diameter. The dimmable LED downlight with such a base can be retrofitted in those fixtures only that have the sockets for this base type.
0-10V Dimmable
The dimmable LED downlight for dimming purposes uses a low-voltage dimming driver. The driver works best for the commercial application having 0-10V systems, thus providing for smooth dimming. Also, this 0-10V driver is compatible with a 0-10V dimmer.
Energy Saving
he dimmable LED downlight is an energy-saving option over the conventional lights. When you make a switch from an incandescent or halogen light to our dimmable LED downlight, you bring about 88% in energy savings. This is because, by design, the LED downlights are superior and use the latest technology for less power-drawing from the source.
Rebate Eligible
This product makes you eligible for certain rebates from power companies, the product having approvals/certifications from Energy Star & ETL.
The FCC-compliance on the lighting products that you buy ensures they are tested for radiation range and are good to be used at home and work from a health point-of-view. Since LED lights are considered unintentional radiators, FCC rules apply to them too. Per FCC, the manufacturers should "use good engineering design and construction techniques, to meet and even exceed the required attenuation of unwanted emissions & extend compliance testing beyond the frequency range guidance traditionally required."
Green, Eco-Friendly & Mercury-Free
Taking care of the environment is a responsibility that everyone should feel accountable for. The good thing is that lights and luminaries available at LEDMyPlace comply with environmental safety and can be categorized as Green Lights. These lights are completely free from toxic and hazardous chemicals like Mercury and Lead.
Using them, you not only save money, but you help contribute towards reducing the environmental impact of traditional bulbs on the Earth.
5-Year Hassle-free Warranty &
30-Day Return Policy
All our products come with a 5-year manufacturer warranty that gives you peace of mind knowing that in case of any operational fails - we have your back.
If, in case you are not simply satisfied with your order parcel within 30 days of receiving it, you can talk it out with us and look forward to a refund.
For any of the above problems, all you have to do is get connected with one of our Customer Care Executives and we can take it forward from there on.
Specifications
| | |
| --- | --- |
| Base Type: | Retrofit |
| Brand: | LEDMyplace |
| Color Rendering Index(CRI): | >90 CRI |
| Dimmable: | Triac dimming |
| Housing: | Iron |
| Life Hours: | >47,000 Hours |
| Metal Halide Equal: | 65 Watt Replacement |
| Operating Temprature: | -4° F TO +122° F |
| Safety Rating: | ETL,Energy star |
| Warranty: | 5 Years |
| | |
| --- | --- |
| Beam Angle: | 100° Beam Angle |
| Certifications: | ETL,Energy star |
| Dimensions (L x W x H): | Dia 5x1.81 |
| Fixture Color: | White |
| LED Type: | 2835 |
| Lumens: | 650 Lumens |
| MPN (Part No.): | DW060 |
| Power Factor: | 65Lm/W |
| Voltage: | 120 Volt |
| Wattage: | 10 Watt |
Applications
Office Light

Store Light

Home Theater Lighting

Kitchen Light
Product Review
Questions & Answers
Have a Question?
Be the first to ask a question about this.
Ask a Question