5 in. and 6 in. LED Recessed Lighting, Surface Mount Disk Light, Round, 15W, Triac Dimming, ETL, Energy Star Listed, For Family Room, Kitchens, Hallways, Basement
- 1-Pack / 3000K
5 in. and 6 in. LED Recessed Lighting, Surface Mount Disk Light, Round, 15W, Triac Dimming, ETL, Energy Star Listed, For Family Room, Kitchens, Hallways, Basement
- 1-Pack / 3000K
30 Days Return
5 Years Warranty
Share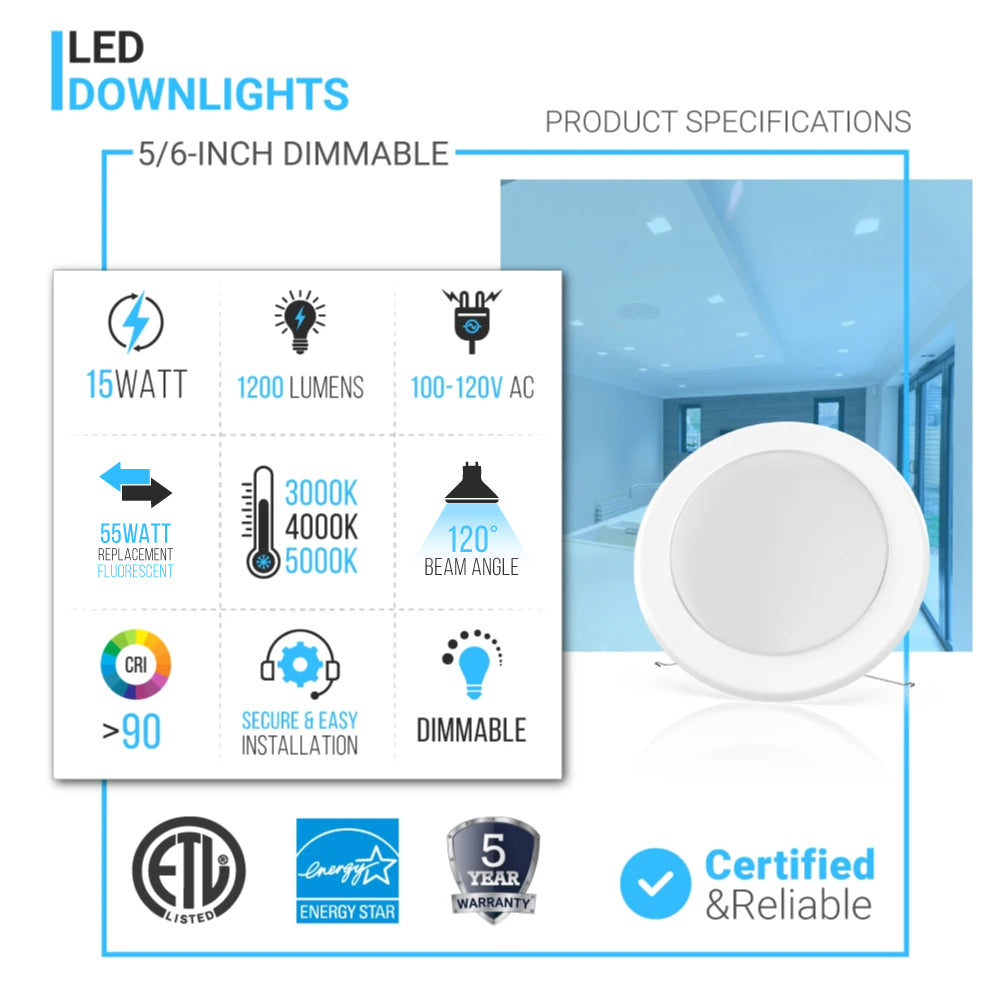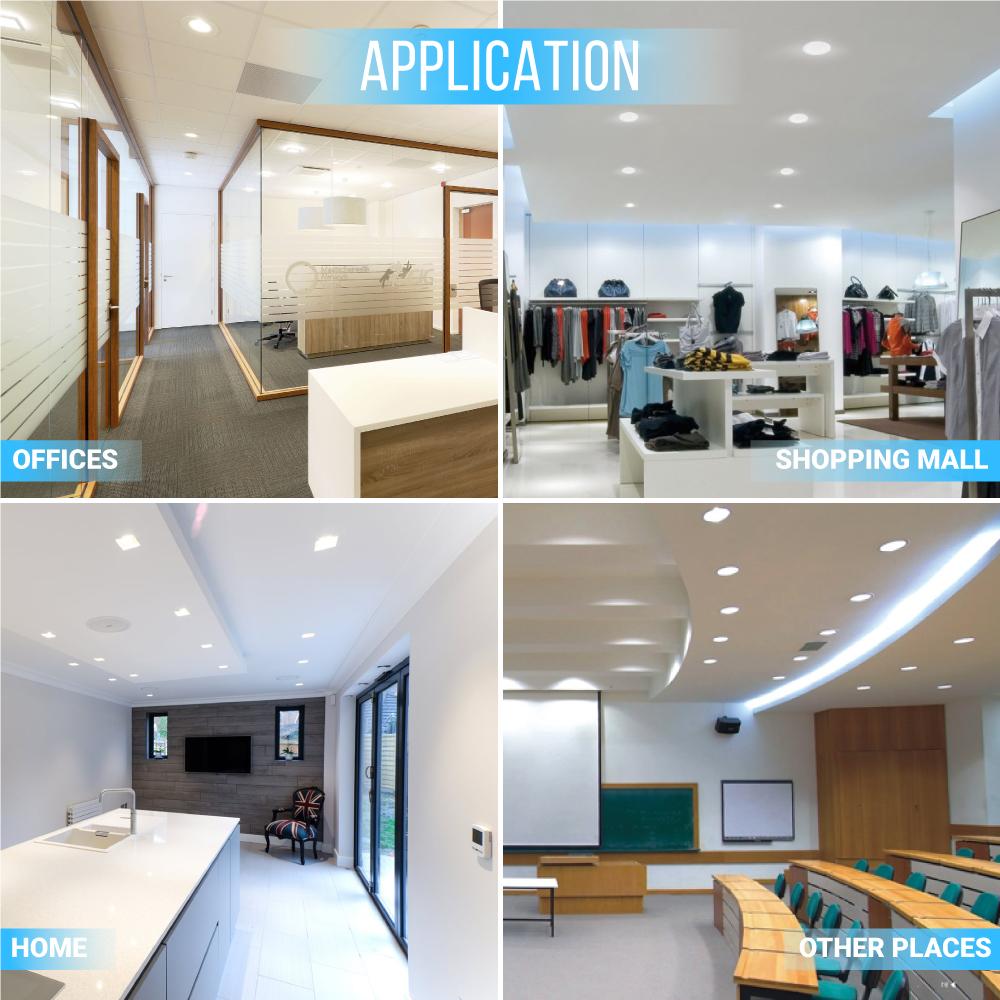 5-6 in. Dimmable LED Disk Downlights - 1200 Lumens -15 Watt - 55W Equal - 3000K , 4000K & 5000 Kelvin - Disk Design - 5 Year Warranty
An Energy Star and ETL certified product, our 5-6 inch dimmable LED Disk Downlights are great alternatives to dimmable LED downlights when your ulterior motive is to have a round surface mount light with a sleek design so as to fit in a limited plenum space. These kinds of LED disk downlights are low-profile downlights yet they impart certain sophistication to the ceilings. 
Available in color temperatures of 3000K, 4000K, and 5000K, this LED disk downlight is popular in residential or commercial applications mainly because of its ultra-wide beam angle used to illuminate low ceilings. With amazingly high CRI (90+), this LED disc downlight can be great for display lighting when all you want is your objects should look accurate, natural, and real in presence of artificial lighting. These LED disc downlights are built to last longer than the conventional halogen or incandescent lights and have a much lesser lumen depreciation than those lights.  
The 15W of LED disc downlight can easily replace 120W of conventional lights, thus bringing forth a significant amount of energy-saving, equivalent to 55W. Being dimmable, these downlights allow you to save a little more energy. These 5/6 inch recessed ceiling light fixtures can be fixed both in 5 inches and 6 inches of ceiling space respectively. 
Features of 5/6-inch Dimmable LED Disk Downlights, 15W
Available Color Temperature: 3000K, 4000K & 5000K
Luminous Flux: 1200 Lumens
Wattage Equivalent: 55 Watt
Lifespan - 50,000 hours
Voltage: 120V
CRI 90+ [High CRI]
5/6"; Disk Design
Dimmable - Compatible with most LED dimmers
cETLus, Energy Star & FCC approved
5-year Manufacturer Warranty
Easy Installation
The installation of this dimmable LED downlight takes place in easy steps with first switching off the power supply and then taking out the existing downlight from the fixture. Next, you must twist the adapter in the socket and then insert the connector into the socket. Insert the dimmable LED downlight trip.
Make sure, you have a compatible dimmer installed for our dimmable LED downlight to dim appropriately. For details, you must read the instruction booklet. If not able to self-install, you must consult an electrician.

No Dark Spot
Nowhere you will find any dark spot when using this dimmable LED downlight in its full non-dimming mode. The light distribution is uniform and even with the light spread at a wider beam angle.
CRI >90
The Color Rendering Index is a measurement of the light source to display the color of objects accurately, realistically and naturally. With reference light as daylight or natural light, CRI is measured on a scale of 0-100. LED lighting products usually have a CRI of 70 or above 70 with different indexes useful to different applications. A CRI of >90 for dimmable LED downlights mean they are good for retail or any other commercial application when the objective is to accurately display the merchandise.
Premium LED Chips
We use the SMD LED chips as one of the premium LED chips on board for best results. For this product, the SMD type is 2835.

Ultra wide Beam
The dimmable LED downlight utilizes a wide beam angle of 120 degree to illuminate large spaces when your objective is to have a non-directional light. The distribution of light is in such a way that no specific objects are highlighted and rather the light distribution is uniform and even.
Slim & Sleek Design
This dimmable LED disk downlight is available in slim & sleek design to allow for easy mounting on low ceilings and in spaces where only ultra-thin lights can be accommodated.
Rugged Construction
The housing for this dimmable LED downlight is made of rugged die-cast aluminium for better durability.
Rebate Eligible
This product makes you eligible for certain rebates from power companies, the product having approvals/certifications from Energy Star & ETL.
0-10V Dimmable
The dimmable LED downlight for dimming purposes uses a low-voltage dimming driver. The driver works best for the commercial application having 0-10V systems, thus providing for smooth dimming. Also, this 0-10V driver is compatible with a 0-10V dimmer.

Energy Saving
The dimmable LED downlight is an energy-saving option over the conventional lights. When you make a switch from an incandescent or halogen light to our dimmable LED downlight, you bring about 88% in energy savings. This is because, by design, the LED downlights are superior and use the latest technology for less power-drawing from the source.

The FCC-compliance on the lighting products that you buy ensures they are tested for radiation range and are good to be used at home and work from a health point-of-view. Since LED lights are considered unintentional radiators, FCC rules apply to them too. Per FCC, the manufacturers should "use good engineering design and construction techniques, to meet and even exceed the required attenuation of unwanted emissions & extend compliance testing beyond the frequency range guidance traditionally required."
Green, Eco-Friendly & Mercury-Free
Taking care of the environment is a responsibility that everyone should feel accountable for. The good thing is that lights and luminaries available at LEDMyPlace comply with environmental safety and can be categorized as Green Lights. These lights are completely free from toxic and hazardous chemicals like Mercury and Lead.
Using them, you not only save money, but you help contribute towards reducing the environmental impact of traditional bulbs on the Earth.
Specifications
| | |
| --- | --- |
| Base Type: | Surface mount/Retrofit |
| Brand: | LEDMyplace |
| Color Rendering Index(CRI): | >90 CRI |
| Dimmable: | Triac dimming |
| Housing: | Aluminum |
| Life Hours: | >50,000 Hours |
| MPN (Part No.): | DW015 |
| Replaces: | 55 Watt Replacement |
| Voltage: | 120 Volt |
| Wattage: | 15 Watt |
| | |
| --- | --- |
| Beam Angle: | 120° Beam Angle |
| Certifications: | ETL, Energy Star Listed |
| Dimensions (L x W x H): | Dia 7.32x0.94 |
| Fixture Color: | White |
| LED Type: | 2835 |
| Lumens: | 1200 Lumens |
| Power Factor: | >0.9 |
| SKU: | WEN-D236-3000.1pk, WEN-D236-4000.1pk, WEN-D236-5000.1pk |
| Warranty: | 5 Years |
| Operating Temperature: | -40 Degree F To +122 Degree F |
Product Review
Can this be installed on a standard 4" ceiling fixture box?

Yes, you certainly can!

Can this light be used for a 6 inch recessed downlight can? Mine use the v shaped spring wire to attach.

Yes it can! And these also use the spring-loaded clips for the 5/6in versions!

Is the beam angle 270 or 120? I see both listed on for what looks like the same light, I need a 270 beam angle that will work with a 6 in recessed can.

It has a 120 degree beam angle!

Do you need the cans or are they can less?

They can be both surface mounted OR placed inside the Cans

Are these light IC rated?

It is ETL, and Energy star listed. 
Choosing a selection results in a full page refresh.