LED Neon Rope Light, 120V, UL Listed, Waterproof IP65 RATED, >80 CRI, Neon Flex (Blue, Green, Red, Pink)
- 51 Feet / Blue
LED Neon Rope Light, 120V, UL Listed, Waterproof IP65 RATED, >80 CRI, Neon Flex (Blue, Green, Red, Pink)
- 51 Feet / Blue
30 Days Return
3 Years Warranty
SAVE 5% USE COUPON CODE CLEAR05
Share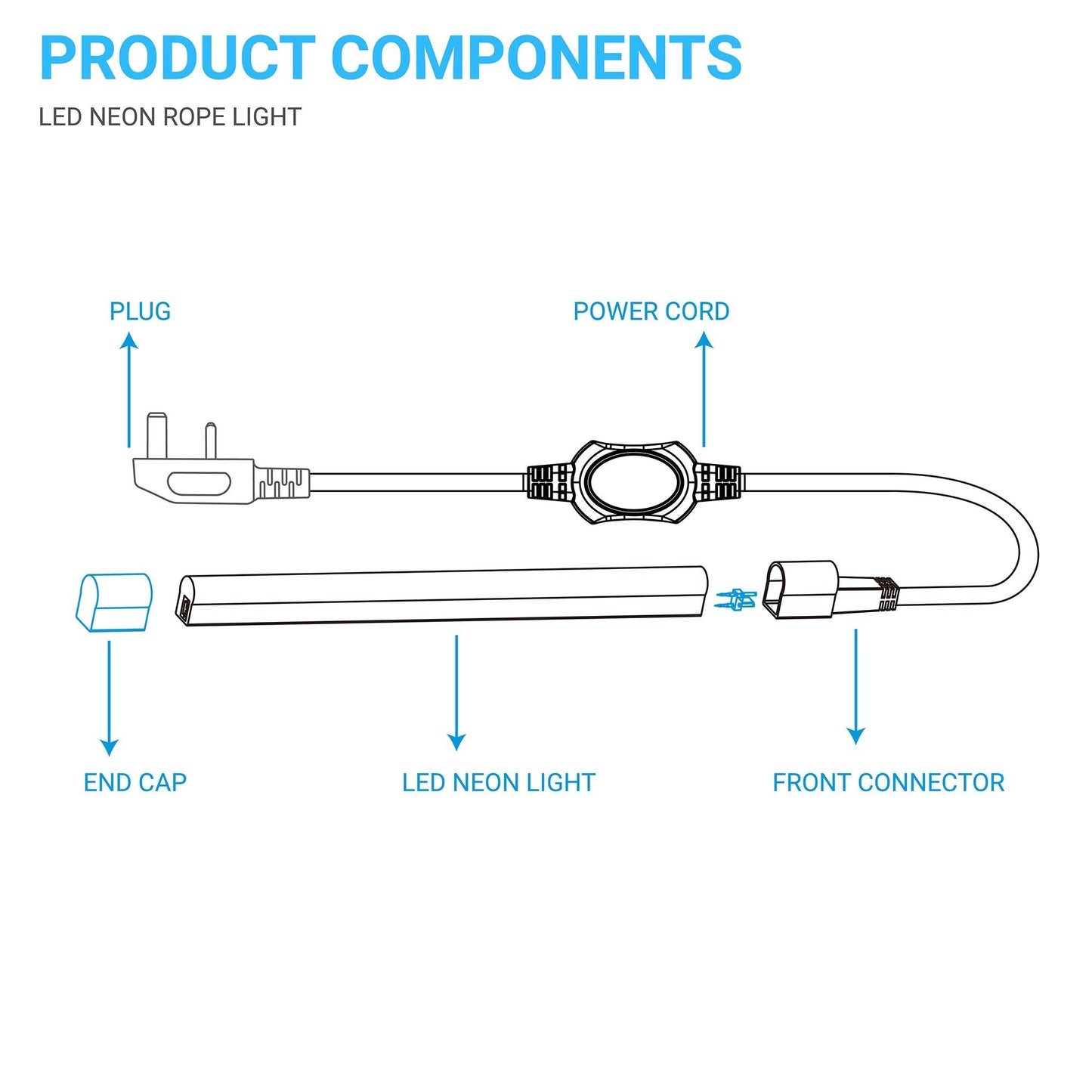 Flexible LED Neon Rope Light Outdoor, 51 Feet/165 Feet, IP65, ETL Listed, Modern LED Neon Strip Light
This LED Neon Rope Light which is available in white color is 8W. The light is available in multiple colors such as Blue, Green, Red, Pink. This LED rope light is IP65 rated which means that these lights are completely dust-proof and can withstand small jets of water. The product has a long-rated operational life of 20,000 hours which means that this light will last for a long time without needing a replacement. The rope light contains 108LED(s) per 3ft. The beam angle of the light is 120° and the product has a CRI of more than 80. This means that the colors rendered by this product are accurate in comparison with an ideal source of light such as daylight.
Features Of 51 Feet/165 Feet LED Neon Rope Light, (Blue, Green, Red, Pink):
Beam Angle: 120 Degree
Brightness:200 Lumens/3FT
Color Rendering Index(CRI): 80 CRI
IP Rating: IP65 RATED
Certifications: ETL Listed
Damp Location: Yes
Easy Installation
This LED rope light is easy to install and can be installed using a clip or an aluminum channel. The installation of this light is completely hassle-free.
IP65 rated
LED Neon Rope Light comes with an IP65 rating to easily withstand harsh weather conditions. These lights can easily resist ingress of dust, dirt and can easily tolerate splashes of water. These lights can be used in places where there are chances of dust, dirt, and dampness.
Can be cut into pieces
This LED rope light can be cut into different pieces and the minimum length for cutting purposes is 18 inches.
Energy-efficiency
The light is highly energy-efficient and converts more than 95% of the energy into light while losing 5% of the heat as electricity.
Eco-friendly
These lights are highly eco-friendly because these lights consume much less electricity when compared to traditional rope lights.
Long-lasting
These lights have a lifespan of up to 30,000 hours, which roughly translates to 4 years on an average usage of 12 hours per day. Depending on the usage, these lights can last far longer than they usually do. If you are going to use them for decorative purposes, they will surely last longer than 30,000 hours.
High CRI
CRI stands for the color rendering index. The higher the CRI, the better get the colors rendered by these lights. A higher CRI, therefore, is an important trait of any decorative light. These lights have a CRI of more than 80, which renders a clear illumination and true to life colors. Install these lights once
Wide Beam Angle
These lights have a wide beam angle of 120 degrees, which is perfect for lighting a wide area like the ones they are used in. A wide-angle beam also increases the seeing length. high LEDs density in every 3.ft provides great, well-balanced lighting, high illumination efficiency, and flicker-free brightness
High LED chips density
The neon lights have an LED chip density of 108 chips/meter, which is really high and provides more lumen output. The 2835 chips used in these lights have 2-3 times larger heat sink than 3528, allowing excellent heat dissipation. These lights last longer and shine brighter because of the slower decay of LED chip life.

Flexibility
These lights can be adjusted in any shape, are easy to install, and last long as well. These lights, therefore, give you more flexibility in terms of use cases. Neon lights, in general, are considered far more flexible than the LED strip lights. So for decorative purposes specifically, LED neon lights are the best choice one could make.

Operating Temperature
The operating temperature of the lights is -10~40℃ and the storage temperature is -30~50℃. Mind the temperatures, so that LED lights can work for a long time without any problem. Any temperature greater than the operating temperature or storage temperature can cause premature lumen depreciation and LED life decay.

Low Wattage
The power consumption of these lights is 8W±10%/3FT, whereas there are 108 LED chips per 3FT. LED lights are very energy efficient, since they covert only 5% of total energy consumption to heat and the rest of the energy translates to lumen output. LED is the reason why these lights provide high brightness against low wattage consumption.

Specifications
| | |
| --- | --- |
| Beam Angle: | 120 Degree |
| Brightness: | 200 Lumens/3FT |
| Color Rendering Index(CRI): | >80 CRI |
| IP Rating: | IP65 RATED |
| Life Hours: | 30,000 Hours |
| MPN (Part No.): | NE002 |
| Safety Rating: | ETL Listed |
| Voltage: | 120 Volts |
| Wattage: | 8 Watt/3FT |
| | |
| --- | --- |
| Brand: | LEDMyplace |
| Certifications: | ETL Listed |
| Damp Location: | Yes |
| LED Type: | SMD2835 |
| Lumens: | 200 Lumens/3FT |
| Power Factor: | >0.9 |
| SKU: | WEN-DDC-UBN108 |
| Warranty: | 3 Years |
| Operating Temperature: | -14 Degree To 104 Degree F |
Product Review
What is the maximum length? How many can you join together with a Middle Connectors (NEA04)?

Maximum the connection length of Neon light is 165FT.

Is this product dimmable?

No, this product is not dimmable.

Led neon rope light change color

No, it doesn't change the color.