LED Strip Lights, IP20, 16.4ft, Dimmable, 12V, SMD 5050, 60 leds/Meter, UL, RoHS Listed, LED Lights for Bedroom, Kitchen, Home Decoration
- 3000K
LED Strip Lights, IP20, 16.4ft, Dimmable, 12V, SMD 5050, 60 leds/Meter, UL, RoHS Listed, LED Lights for Bedroom, Kitchen, Home Decoration
- 3000K
30 Days Return
5 Year Warranty
Share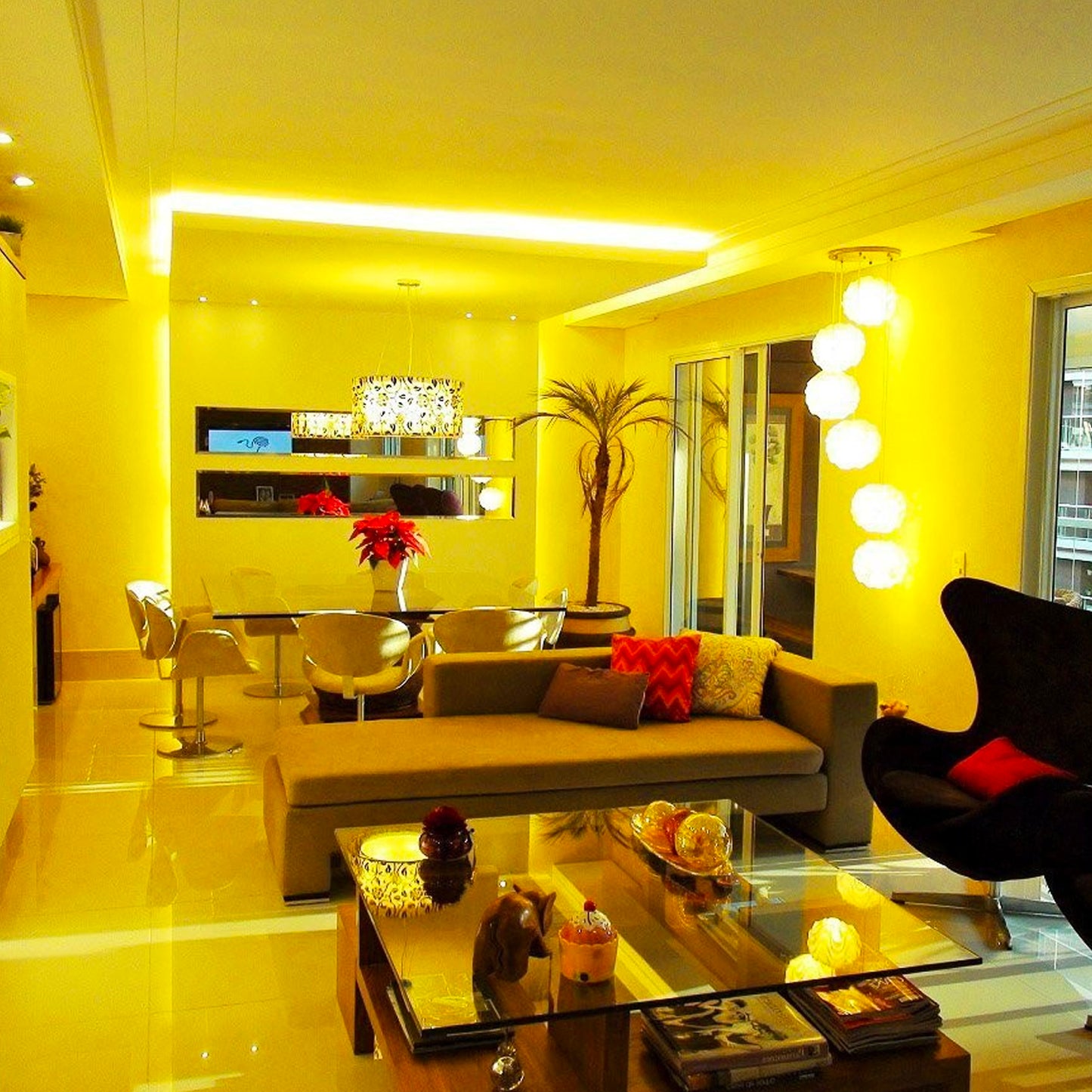 12 volt LED strip lights, SMD 5050, IP20, Dimmable - for Home, Bedroom, Kitchen, DIY Decoration
Renovating an indoor location to enhance its aesthetics and appeal is one of the ways to experience newness in old spaces. However, a renovation does not have to involve breaking stuff and reconstructing it! This 5-meter LED light strip can bring a lovely and effortless transformation to indoor spaces. It is available in three correlated color temperature (CCT) and lumen output options: 3000k, 4000k, and 6500K. Choosing the right CCT will allow you to set up the desired ambiance in various indoor spaces.
This strip light comes with standard CE, RoHS, and UL certifications and an IP65 rating. So, you can be sure of electrical safety in moisture-prone indoor locations like bathrooms, kitchens, spas, and salons (among other places). The strip has 60 LEDs per meter and it will operate on a 12-volts power supply. It will consume 11.52 watts per meter and provide excellent ambient lighting. Also, it will offer a high color rendering index (CRI) of 80 that will offer a lively lighting experience.
It will come in an anti-static packet that will prevent circuit damages that may arise due to the effects of static electricity. Thus, you can be sure that the product that you'll receive will be safe for installation. Installing this strip light will be easy, as it comes with 3M adhesive tape backing. The use of additional accessories like LED dimmers, connectors, drivers, and aluminum profiles will enhance the joy that this strip light has to offer!
Features of LED Strip Lights,12 Volt
Length - 5M Roll (16.4ft)
LEDs/Meter - 60
Voltage Input - 12V
Total Wattage - 57.75W
Lumens - 14 - 85 Lm/W
IP Rating - IP20
Copper Lead Frame & Gold Wires
10 MM PCB
3M Tape on the back
Available Color Temperature - 3000K, 4000K, 6500K, Red, Green, Blue, Ice Blue, UV, Pink, Yellow
Easy Installation
This 12V LED strip light or tape light comes with an easy to connect DC5.5 female connector and Premium 3M Sticky for easy and quick installation. As connecting LED strips is a necessary process in any kind of strip project, the 3M tape adhesive tape is quite helpful in establishing a connection and mounting the LED strip light.
Dimmable
This LED strip light is meant to be dimmed with an in-line PWM (Pulse Width Modulation) dimmer. The dimmer will go on to the side of 12V power supply and be wired in between the strip light and power supply.
High Lumen Output
This 12V LED strip light with efficient LEDs sitting on a wide circuit board of 16.4ft in length (which is equivalent to 5 metres of strip) can deliver a total lumen output of 4,559.20 lumens. Such high lumen output is great for creating task lighting, accent or mood lighting, cabinet, under cabinet, bedroom and cove lighting in any indoor application.
50,000 Life hours
This LED strip light has a total lifespan of 50,000 hours and so you can have a hassle-free product usage until the end of lifespan as there is no or minimal lumen depreciation.
Adhesive Backing
This LED strip light comes with a 3M adhesive backing for easy and non-cumbersome mounting options. The low-profile, flexible LED strips expose the 3M adhesive through the peel-off back making this product quite useful for peel-and-stick installation.
Cut Into Strip
This strip light comes with a cut line along the strip for easy cutting of the strips. The copper lead frame makes the cut strip addressable so that you can easily connect LED strips from different areas under indoor application.
Plug & Play
Through the use of a power supply driver/adapter, you can plug this LED strip light directly into the wall to power it up.
Ultra-Wide Beam Angle
This LED strip light delivers an intense, bright light with an ultra wide beam angle -- 180 degrees. Thus, this strip light can be used for casting wide beam over large indoor areas without highlighting any specific object.
Flexible
This LED strip light that utilizes 60 LEDs/m is a flexible strip light that can run directly from your outlet and is meant for simple plug and play.
Specifications
| | |
| --- | --- |
| Beam Angle: | 120 Deg. Beam Angle |
| Certifications: | UL CE RoHS Listed |
| Dimmable: | Yes |
| LED Type: | SMD5050 |
| Life Hours: | 50,000 Hours |
| Power Factor: | 0.96A/M |
| SKU: | WEN-SW-F5050-WF0-5M-12 |
| Warranty: | 5 Year |
| | |
| --- | --- |
| Brand: | LEDMyplace |
| Color Rendering Index(CRI): | >80 |
| IP Rating: | IP20 Rated |
| Length: | 16.4 Ft |
| MPN (Part No.): | ST002 |
| related accessories: | Yes |
| Voltage: | 12V DC |
| Wattage: | 3.5 Watt |
Product Review
Questions & Answers
Have a Question?
Be the first to ask a question about this.
Ask a Question
Choosing a selection results in a full page refresh.