36 in. x 48 in. Vanity Mirror with Lights, Anti-Fog, CRI 90+, Makeup Mirror with Lights, Touch Switch Control, CCT Adjustable With Remembrance, LED Mirror for Bathroom, Inner Window Style
36 in. x 48 in. Vanity Mirror with Lights, Anti-Fog, CRI 90+, Makeup Mirror with Lights, Touch Switch Control, CCT Adjustable With Remembrance, LED Mirror for Bathroom, Inner Window Style
Free Shipping
30 Days Return
5 Years Warranty
Share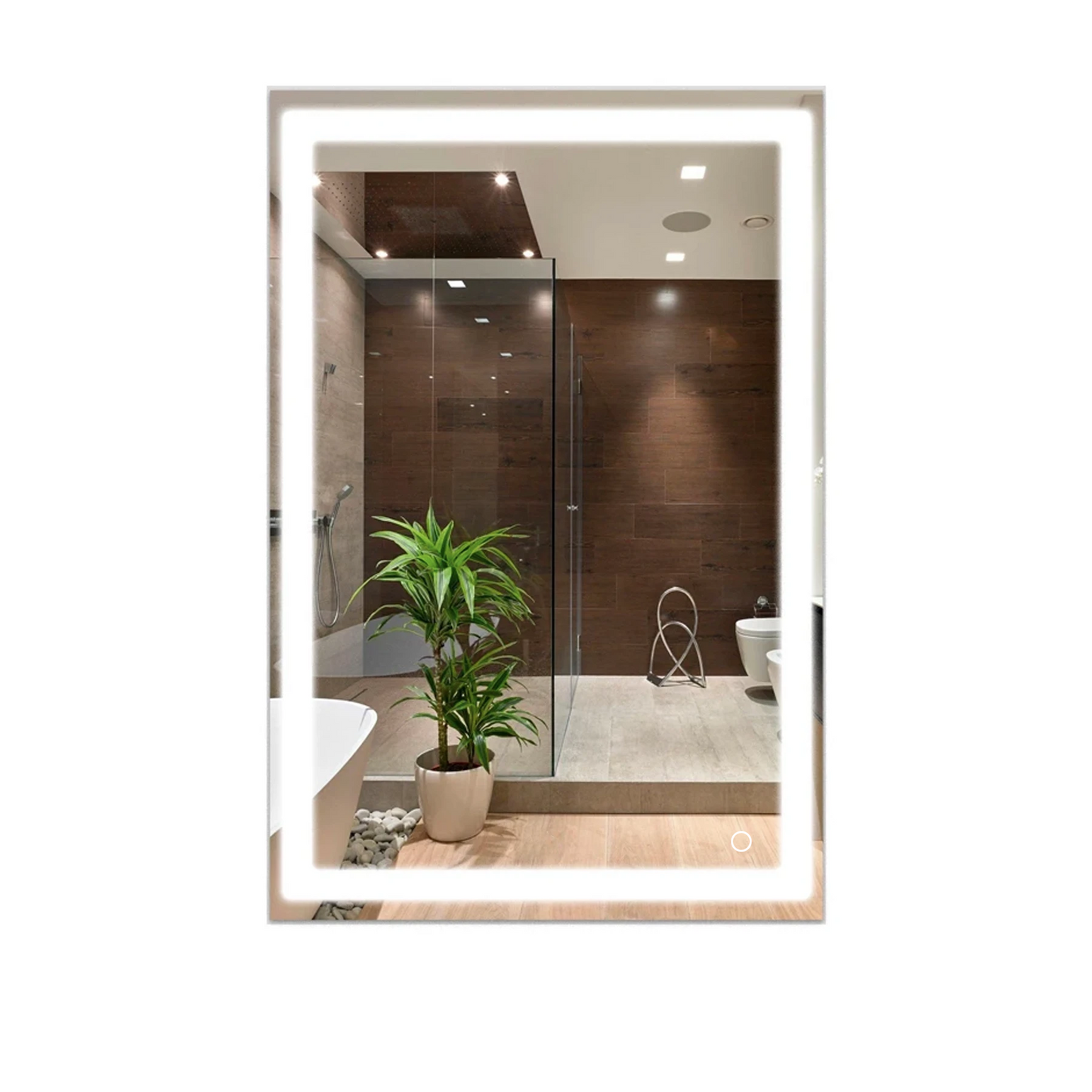 LED Wall Mounted Lighted Vanity Mirror, 36X48 Inch, Touch Switch, Defogger, UL Approved Driver
Amplify the charm of your Bathroom with LEDMyplace's Premium Quality 36" x 48" LED Lighted Bathroom Mirror. This LED Bathroom Mirror can be used as a statement piece of decoration. It delivers 2400-2800 lumens with CCT of 3000/4000/4200/6000K, which can be changed with an on/off touch switch. These are the smart mirrors that can keep themselves clean without leaving streaks behind. They are perfect for illuminating indoor areas, be it bathroom or bedrooms, and are highly efficient. These LED Vanity Mirrors lasts for 50,000 hours, hardwired, and comes with a 5-year warranty against manufacturing defects.
36" x 48" LED VANITY BATHROOM MIRROR, IN-BUILT DEFOGGER, INNER WINDOW STYLE
These LED Vanity Mirrors are designed with inbuilt defoggers that help clean all the fog collected on the mirror while bathing. This saves the timing for wiping up the mirror. These LED Lighted Bathroom mirrors are designed with inner window style.
Defogger is the special feature of the LED Vanity Mirror that helps to remove the fog that gets collected on the mirror. It saves time for manually cleaning the mirror. The Defogger is not controlled through the switch on the mirror. The switch only controls the LED Light on the mirror to turn on and off or to change CCT. If you wish to switch the defogger off, you will have to turn the switch off or take the plug off of the outlet. The temperature of the defogger will always be 59-68 degrees more than the room temperature. To elaborate, let's say if your room temperature is 59 degrees Fahrenheit then the temperature of the defogger would be 86-95 degrees Fahrenheit.
Features Of 36" X 48" LED Bathroom Lighted Mirror
Wattage : 41W
Size: 36x48 inches
Turn ON/OFF: Touch Switch
Life Hours: 50,000 Hours
Warranty: 5 Years
Defogger: Yes
CRI: 90+
Color Temperature: Changeable
Specifications
| | |
| --- | --- |
| Lumens: | 2400-2800 Lumens |
| Certifications: | ETL Listed |
| Dimensions (L x W x H): | 36x48 inches |
| Housing: | Aluminum |
| LED Type: | LED2835 |
| MPN (Part No.): | MR009 |
| Voltage: | 110 Voltage |
| Wattage: | 41 Watt |
| | |
| --- | --- |
| Brand: | LEDMyplace |
| Color Temperature (Kelvin): | 3000/4000/4200/6000 Kelvin |
| Driver: | Waterproofed UL approved Meanwell brand |
| LED Brand: | Hongli Led |
| Life Hours: | 50,000 Hours |
| SKU: | WEN-08LM3648-DSTBM |
| Warranty: | 5 Years |
Product Review
To avoid seeing the wires hanging, if power receptacle is behind mirror can plug fit behind mirror? Also can this converted to being hard wired?

Yes, you can hard wire it to avoid seeing the wires hanging.

How many amp s does mirror draw for LED lights and anti fog

It draws 1.8A.

What is depth of mirror?

It is 45mm or 1.77in.

how many lumens does this mirror have?

This mirror has about 2800 Lumens.

Is this surface mount or a recessed mount?

It's meant more for a surface mount but it can certainly be recessed with the right adjustments!

what sort of a plug is shipped on this mirror?

The plug picture and more can be found under the main product picture on the product page. The cord itself is shown below if you click the words beneath this;

Mirror Cord Shown Here

Does the power button stay lit when the mirror is on?

It does stay on.

I will connect the mirror to a wall switch. If I turn off the wall switch while the LED is on, will the LED be on when I turn the wall switch on again? Also, will the color temperature change? In other words, does it has memory to remember the last on/off setting and color temperature after disconnecting from power?

As long as you have it properly wired to your wall switch it will work. You change the color temperature with your finger by gently moving it across the Power button. Yes, it remembers the last setting saved even after disconnecting.

Can this mirror be hung with the 48" horizontal ?

It certainly can!

Can this be mounted horizontally, 48" long?

It certainly can!
Choosing a selection results in a full page refresh.