T8 8ft Integrated LED Tube Light 60W V-Shape 5000K Daylight White, Frosted, 8 Foot Plug and Play Linkable LED Shop Lights, Damp Location
- 1-Pack
T8 8ft Integrated LED Tube Light 60W V-Shape 5000K Daylight White, Frosted, 8 Foot Plug and Play Linkable LED Shop Lights, Damp Location
- 1-Pack
30 Days Return
5 Years Warranty
Share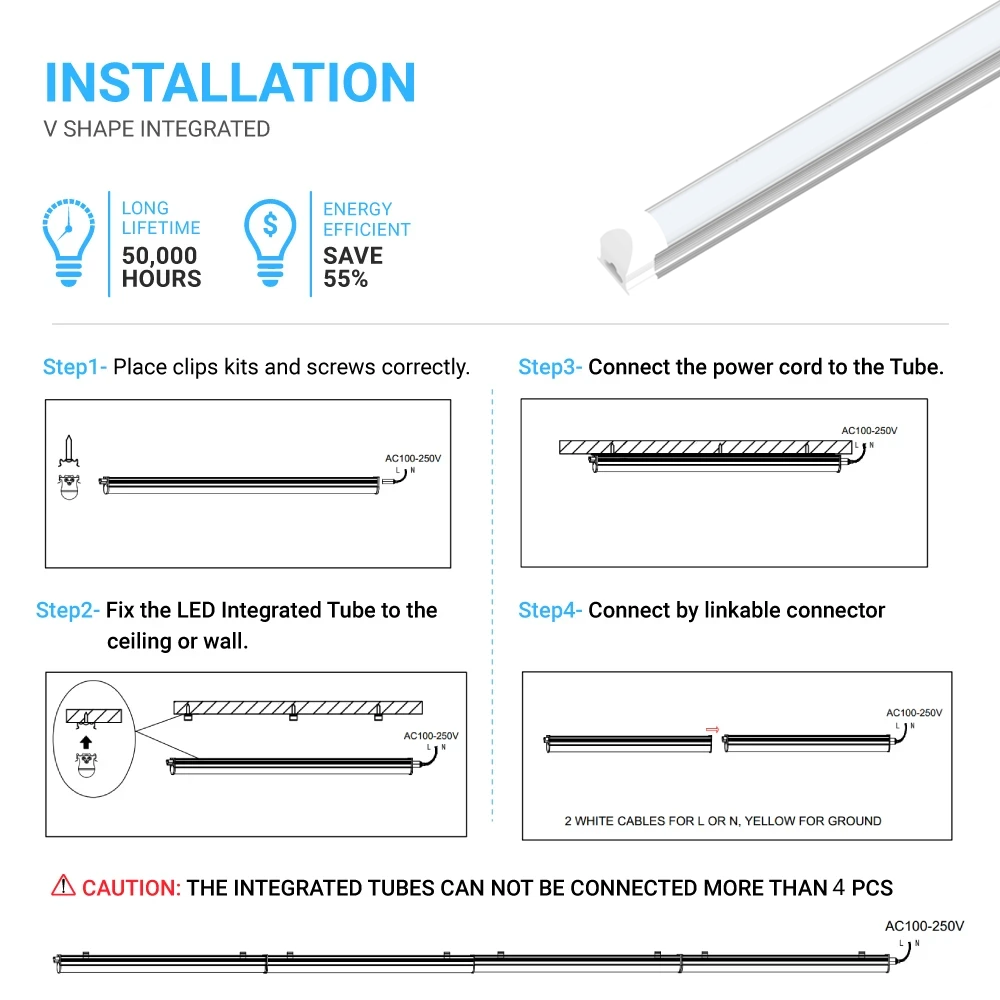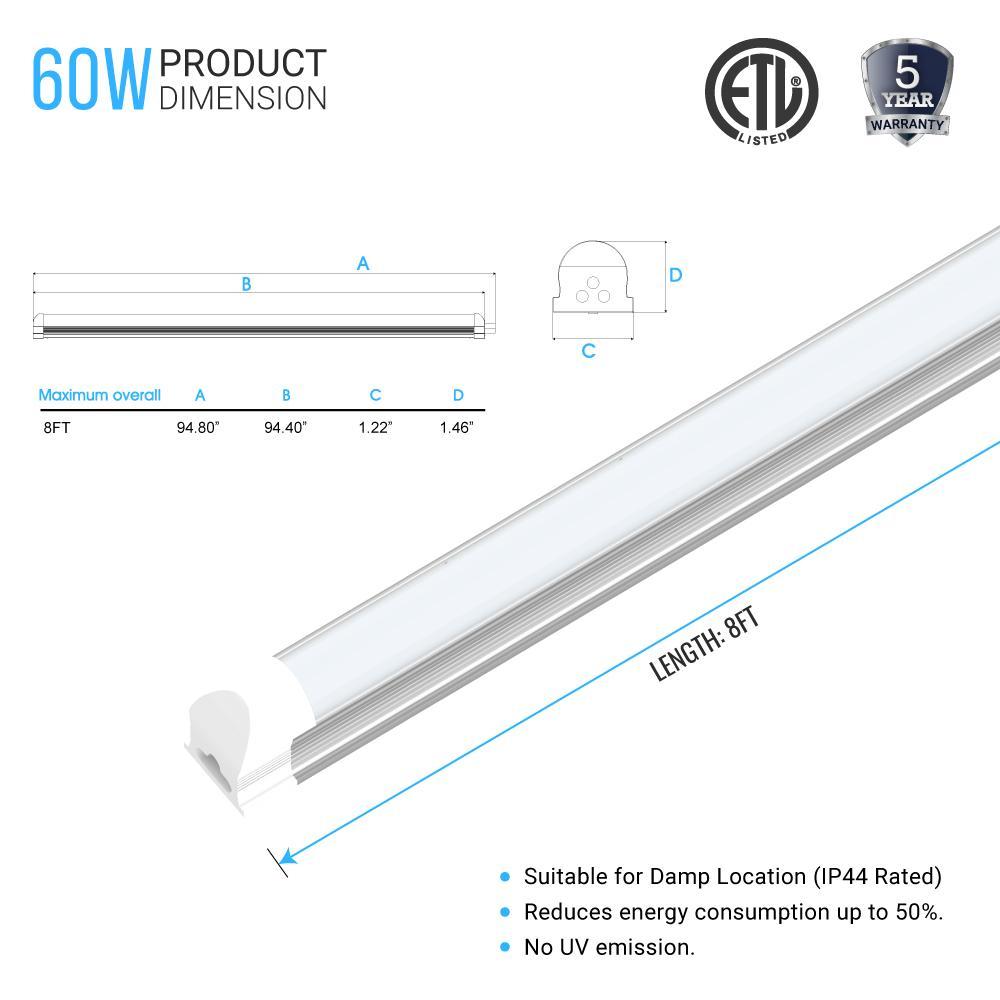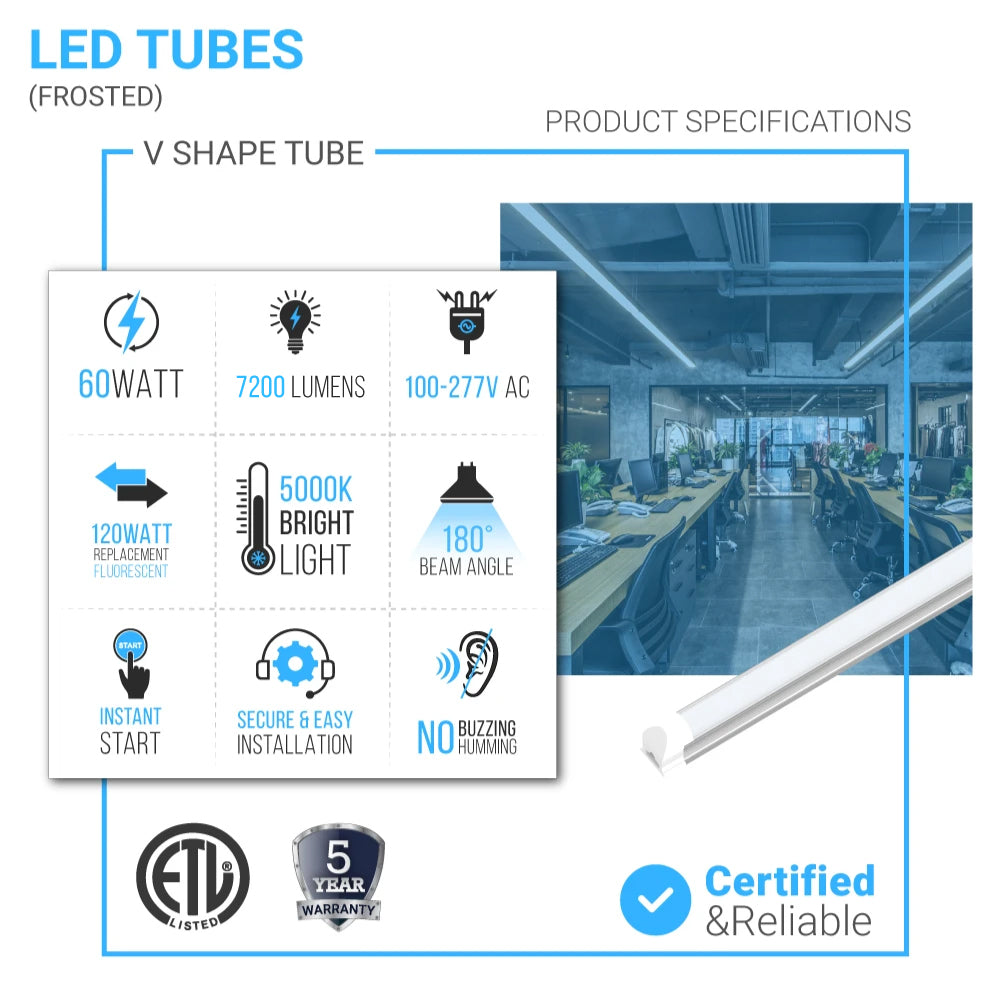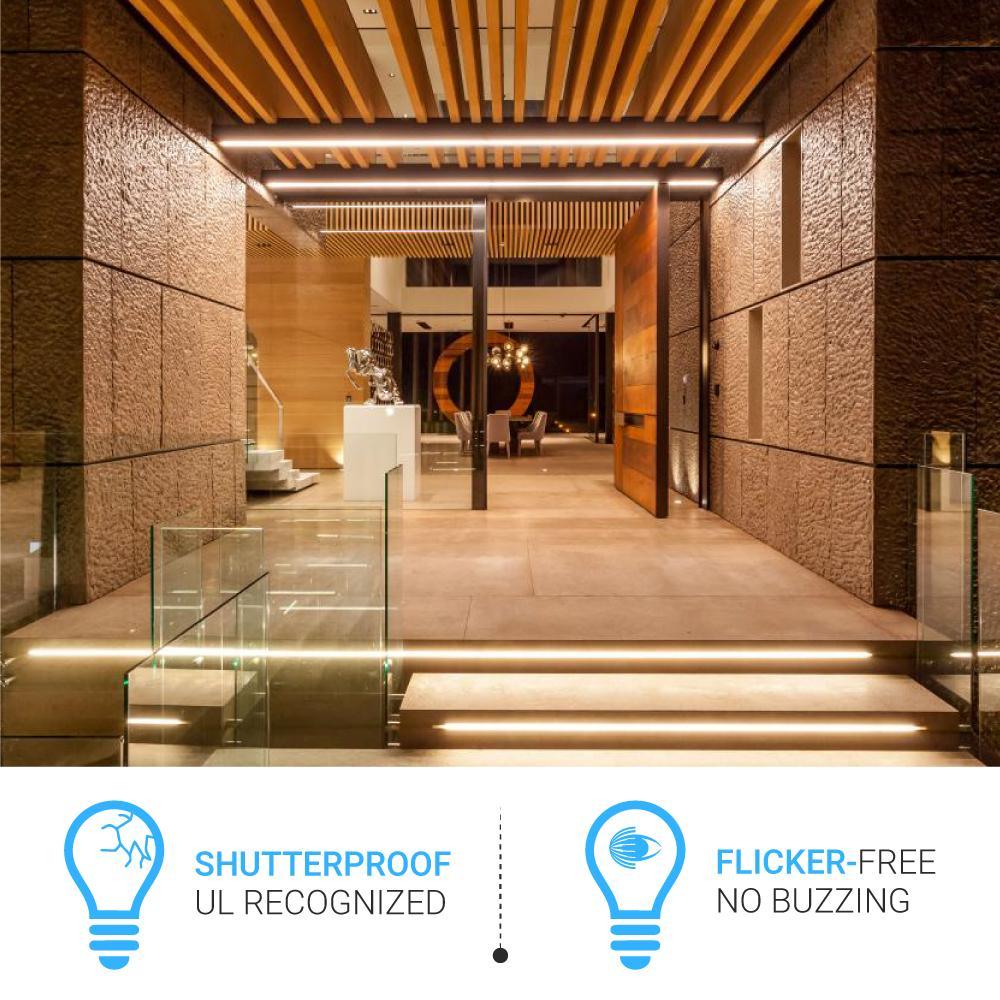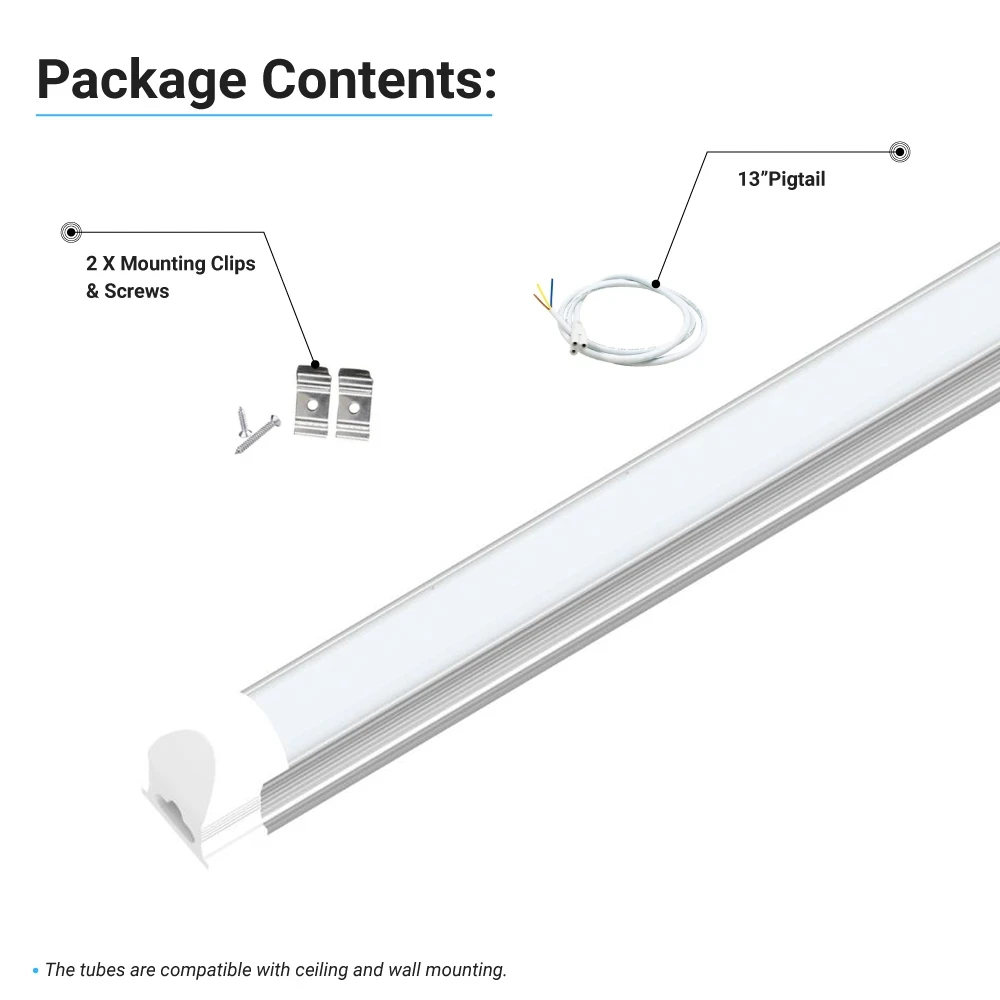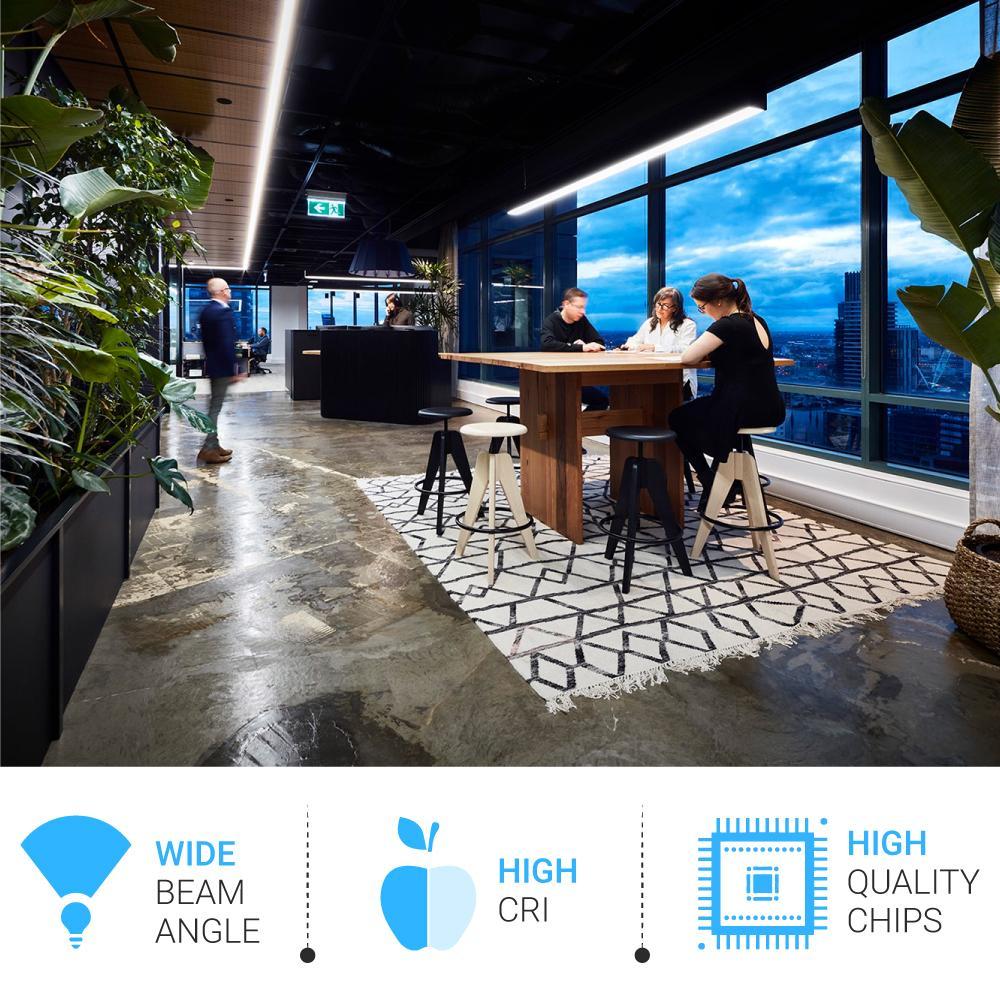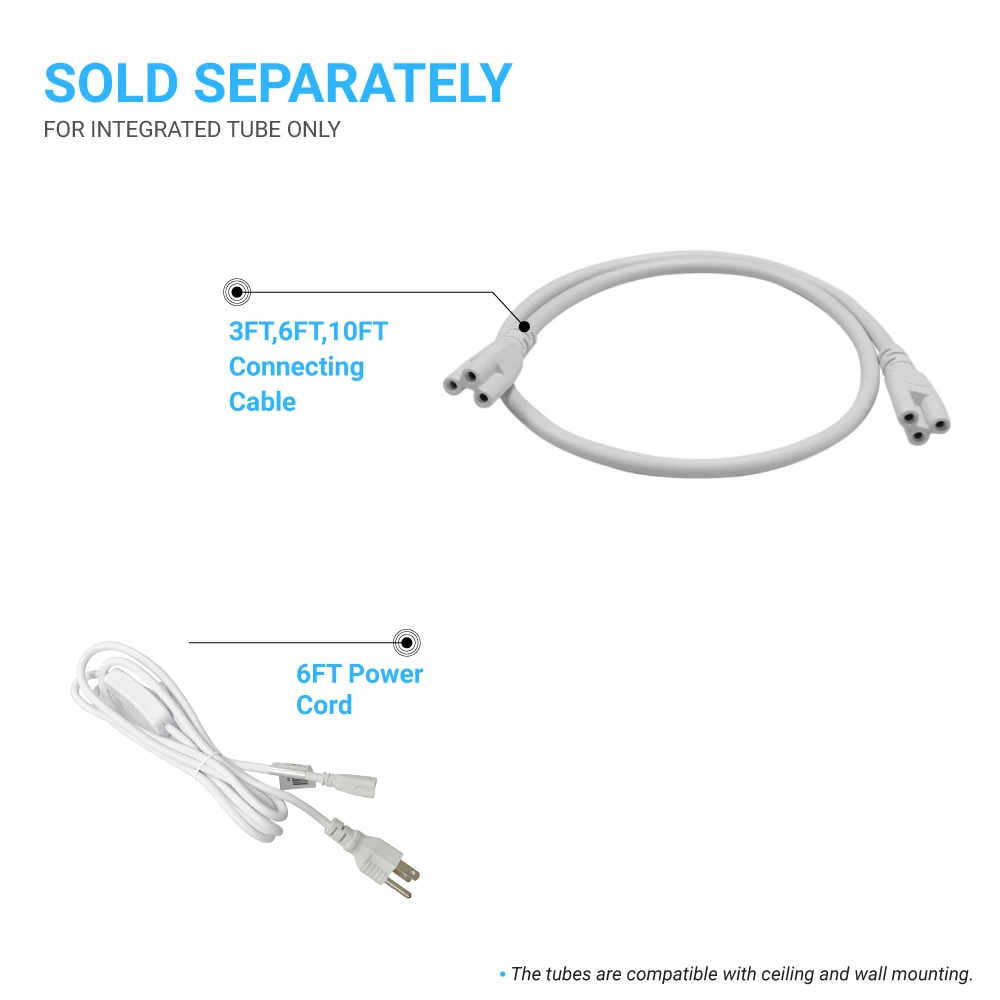 8FT Linkable LED Shop Light Fixture, 7200LM, ETL Listed, LED Lighting for Garage Warehouse, supermarkets, offices, Storage Area
Are you looking for a suitable LED shop light? How about a frosted T8 8ft integrated LED tube light? This 60 Watt 8ft LED tube light is ideal for comprehensive indoors. You can use this light in retail stores, offices, hospitals, factories, garages, warehouses, workshops, and other commercial spaces. Plus, it is suitable for damp locations. In addition, the reach of this T8 8ft integrated LED tube light bulb is wide. Therefore, it promotes a 180 degrees beam angle illumination that reaches the widest possible corner. Moving on, the 5000K color temperature of this LED tube disperses a daylight white light in the indoor's environment.
Furthermore, this frosted 8ft LED shop light is energy efficient. It has the wattage equivalency of 210 Watts of a conventional light. Adding on, this is a plug & play tube light that does not require a ballast fixture to thrive. Also, it is linkable, and you can add up to 4 LED tube lights to enhance its illumination effect. Adding to that, the light can be directly connected to another tube light or you can use a connecting cable to link the tube lights. The power cord and connecting cable is sold separately. Therefore, this integrated LED tube light is an ideal indoor lighting option with excellent performance and a lifespan of about 50,000 hours.
Features of 60 Watt V Shaped LED Integrated Tube, T8 8ft. 5000 Kelvin
Available Wattage: 60W
Available Color Temperature: 5000K
Luminous Flux: 7200 Lumens
Wattage Equivalent: 210W
Lifespan - 50,000 hours
Voltage: 100V - 277V
Lens: Frosted
ETL approved
5 years of Manufacturer's Warranty
Easy Installation
T8 8ft LED Integrated tube is a linkable integrated fixture and can be linked using a linkable connector directly. During installation, you will find two white cables for L or N and yellow for the ground; using these wires also integrated tubes can get connected. You can mount this fixture by placing the clip kits and screws correctly. Then fix the tube to the ceiling or wall. Once you get done with the tube fixing, connect the power cord (Sold Separately) to the tube.
Easy to Plug and Play
Our T8 8ft integrated tube doesn't require any ballast unlike in case of fluorescent tube when such tube required removing of the ballast and which took substantial amount of resources both in terms of labor and time. Earlier, it was often easier to install a new 8ft integrated tube than to retrofit the fluorescent tube when you struggled with the issue of ballast compatibility. But, now, with T8 8ft integrated tube, you can heave a sigh of relief as all you need to do is replace the fluorescent tube with our integrated tube by directly wiring it to the line source and without undertaking any step of ballast removal.

Flicker Free
With fluorescent tubes, you often encountered the problem of flickering on a consistent basis and then you helplessly tried to fix it in some or the other way, sometimes by fixing the loose tube in its place, at other times, replacing the starter. Fortunately, this isn't the case with our T8 8 ft LED integrated tubes. Our 8ft integrated tube is completely flicker-free since it operates without any starter and thus this tube is a time-saving lighting product when you can safely rely on it without your regular activity getting disrupted.
Voltage Input
Our T8 8ft LED integrated tube accepts an input voltage of AC 100-250. With an LED driver inside the tube that can adjust according to the incoming voltage to provide the current supply, this voltage range allows you to directly wire the fixture without making any modifications.
Low Maintenance Cost
With our T8 8ft integrated tube lasting for not less than 50,000 hours and with very little lumen depreciation until the end of the lifespan, you incur no cost or almost negligible maintenance cost.
>50,000 Life Hours
Our T8 8 ft integrated tube by all means are built to last for more than 50,000 hours, thanks to the innovators of LED technology.
CRI >80
The CRI being 80 for integrated tube means it enables objects and spaces to display their true colors to 80% extent and this is what makes it suitable to different applications.
180 Degree Beam Angle
The integrated tube having this wide beam angle can be used for general area lighting and for illuminating large areas. For integrated tubes installed in low ceiling rooms, this beam angle is perfect.
Energy Saving
The integrated tubes by all means do not bring any less than 75% savings in energy when making a switch from fluorescent tube to this tube.
Aluminium Heat Sink
The heat sink allows our T8 8ft integrated tube to dissipate any heat produced by the tube. This heat sink made of aluminium is light weight and a good thermal conductor.

Operating Temperature
The Operating Temperature of these LED Integrated Tubes is -4°F to 104°F which is -20°C to 40°C. These LED Integrated Tubes to perform very well in these temperatures.
IP 40 Rated
Our integrated tube is rated IP40 indicating that the tube is protected against any dust particles with thickness greater than 1mm and any moisture or water coming from any direction. This makes our tubes suitable even for those indoor areas where there are chances of penetration of water such as bathrooms, kitchens etc.
LED Chip
LEDMyPlace uses LED chip of highest grade, made available to us through the largest manufacturer of LEDs -- Epistar Corporation. The LED chip being manufactured out of high quality materials is durable, low heat generating and eco-friendly with a long service life.
Specifications
| | |
| --- | --- |
| Base Type: | Integrated |
| Brand: | LEDMyplace |
| Color Rendering Index(CRI): | >80 CRI |
| Damp Location: | Damp Location |
| Housing: | Aluminum |
| LED Type: | 2835 |
| Lumens: | 7200 Lumens |
| Power Factor: | >0.90 |
| Safety Rating: | ETL Listed |
| Voltage: | 100-277 Volt |
| Wattage: | 60 Watt |
| | |
| --- | --- |
| Beam Angle: | 180° Beam Angle |
| Certifications: | ETL Listed |
| Color Temperature (Kelvin): | 5000 Kelvin |
| Dimensions (L x W x H): | 94.80''x1.22''x1.46'' |
| IP Rating: | IP40 Rated |
| Life Hours: | 50,000 Hours |
| MPN (Part No.): | IT001 |
| Replaces: | 210 Watt Replacement |
| SKU: | WEN-8FT-INT-60W-5000K-F |
| Warranty: | 5 Years |
| Operating Temperature: | -4 Degree F To +104 Degree F |
Product Review
Are these lights dimmable?? We are looking to purchase 20-30 of them to replace the 8' clear units that we purchased about two years ago and hung 10' directly above work cubicles. We are getting a lot of complaints about head ackees due to the direct light of the led. So we are looking to replace them with these. Please let me know.

Hello, unfortunately none of our tubes are dimmable but we do carry these in Frosted style which helps diffuse the light a bit.

How many of these can be connected on the same circuit in the United States?

Up to 4, for 240W.

What is included with the 10 pack? Do they come with connections so you can daisy chain them?

The 10-pack comes with 10 tubes. Each tubes has a 13in long pigtail for hard-wiring, a 1ft connecting cable for daisychaining, and a clip set. You can connect up to 4 (240W) of these 8 footers together.

how do you wire the lights to the wires already in the shop. I have black , white and bare copper wires but they don't match the wires on the new lights.

Please refer to product images for wiring instruction on website, you can reach our customer support on 815-697-5223 for further assistance.

Are these lights 110 volts

They run on the voltage range of 100-277V

Can these lights be used on a food prep area? (Shatterproof)

The tube light not the glass, it is the alumimium and the cover is plastic, it is not the fragile product.

We love these lights but they cause loud static on our shop radio. Is there some accessory you sell that reduces the amount of RFI these lights emit?

The only possible suggestion we can give is that you keep the FM Radio in a separate room so that RFI interference can be avoided.

 

Is there any warranty on these lights? I have bought 2 already and plan to buy 20+ but had question come up yesterday about warranty. I do not see any reference to that on here and there wasn't anything in the package on the two I already purchased.

Yes, these fixtures come with a 5-year hassle free warranty.