LED Wall Pack Light without Photocell 80W 5700K Forward Throw, IP65 Waterproof, 10400LM, UL, DLC Certified, Outdoor Security Lighting Fixture
LED Wall Pack Light without Photocell 80W 5700K Forward Throw, IP65 Waterproof, 10400LM, UL, DLC Certified, Outdoor Security Lighting Fixture
30 Days Return
5 Years Warranty
Share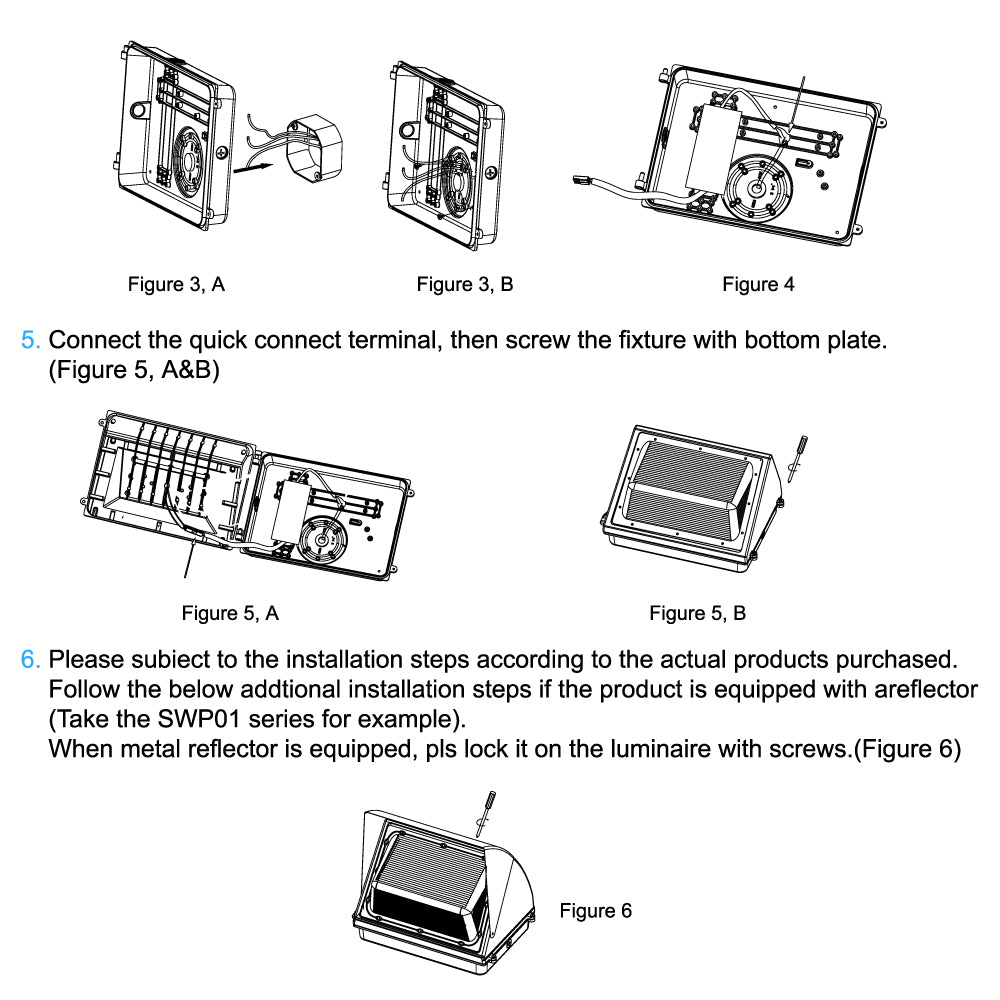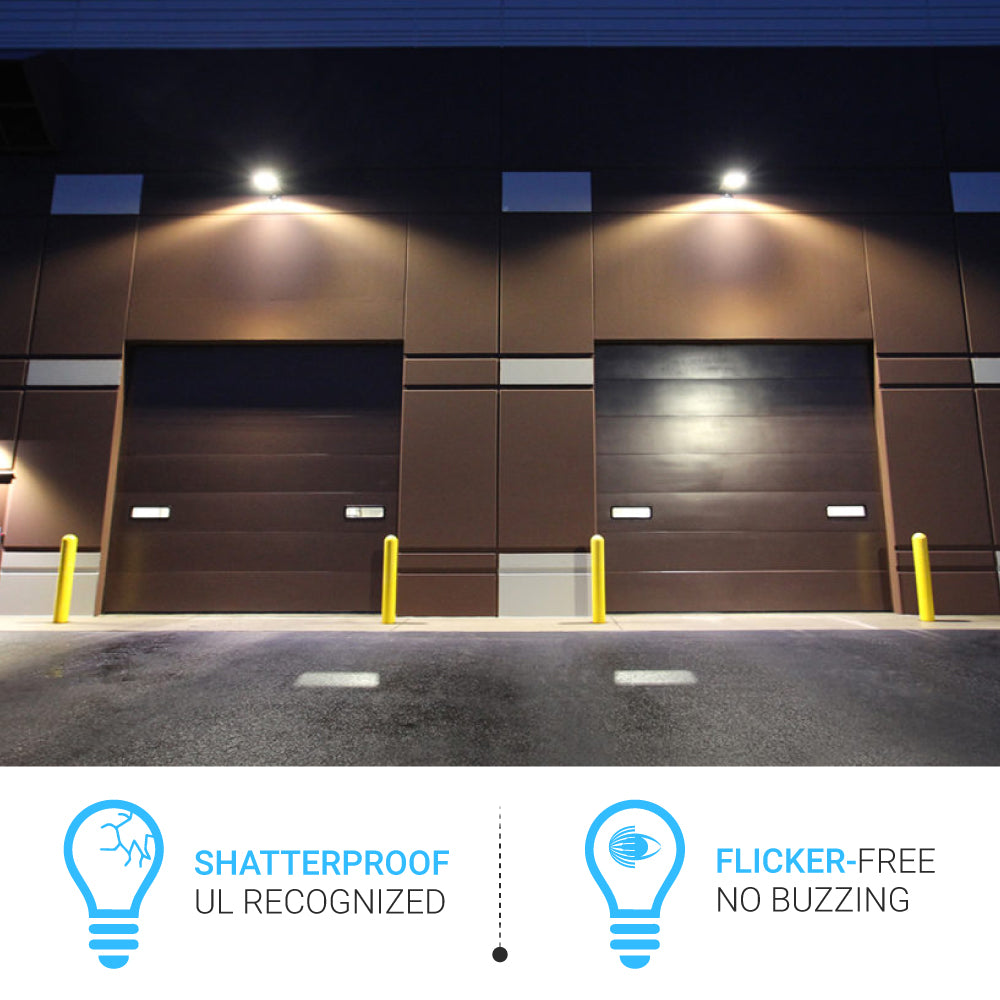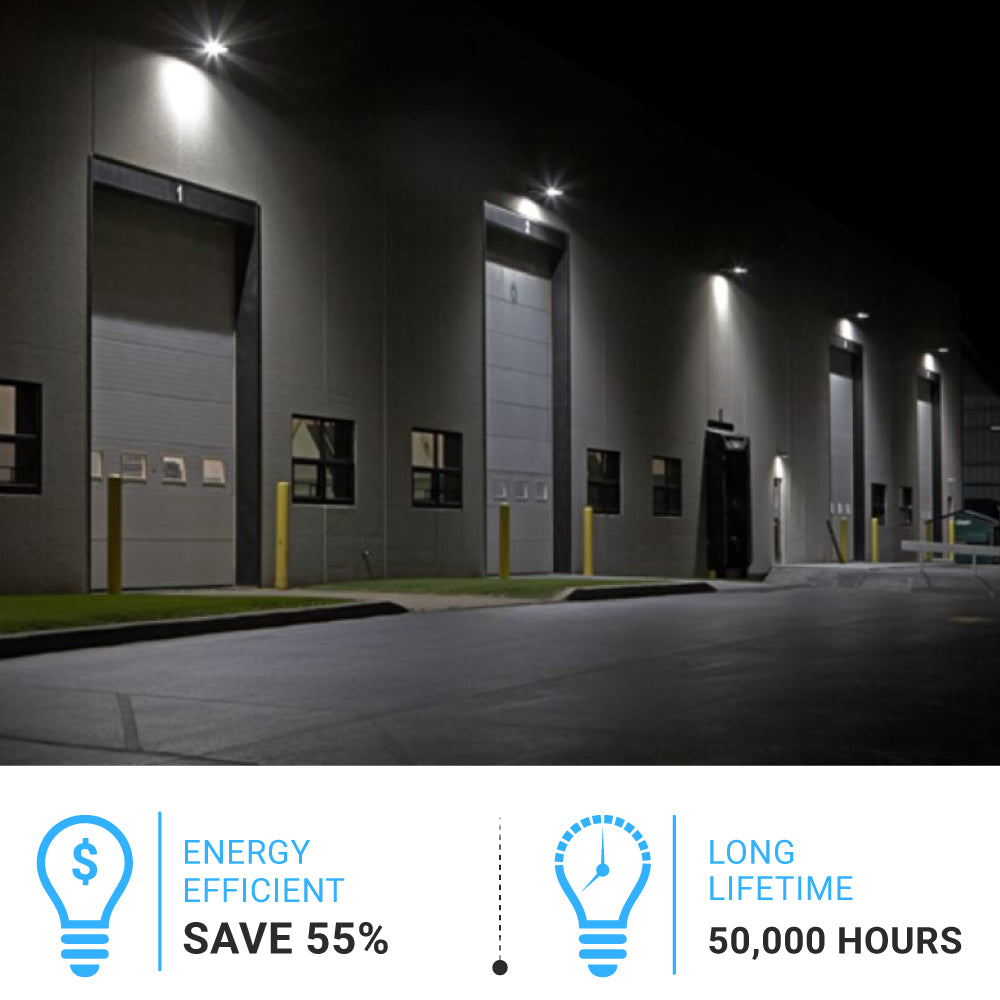 80W LED Wall Pack without Photocell, AC120-277V, Wall Mounted LED Light Fixture
This 80W LED Wall Pack is a suitable replacement for 280W conventional lighting fixtures such as metal halides, high-pressure sodium (HPS), and halogen lamps. It features a simple-yet-elegant design, making it suitable for general and decór and lighting projects in outdoor spaces. A bronze finish will allow it to blend in with and adorn the outdoor surroundings of residential and commercial properties alike. It will provide an excellent light output of 10400 lumens while consuming little energy peruse. The wall pack comes with an inbuilt photocell sensor. Following instructions on the users' manual will allow you to connect the photocell with this wall light. However, if you do not want the photocell function, there's no need to connect the inbuilt device to the wall pack.
Along with a lifespan rating of 50,000 hours, this quick-start LED wall pack is an easy-to-install lighting product. It is non-toxic, radiation-free, weather-proof, and energy-saving. Furthermore, an industry-standard IP65 rating ensures this wall pack's electrical safety in dust and moisture-prone outdoor environments. Order this outdoor lighting fixture and experience bright and enjoyable outdoor lighting while cutting down daily energy consumption rates.
Features of LED Wall Pack 80W 5700K Forward Throw 10,400 Lumens
Available Wattage: 80W
Color Temperature Available: 5700K
Luminous Flux Available: 10400 Lumens
Wattage Equivalent: 280W
Lifespan: 50,000 hours
Voltage: 100V - 277V
Photocell Sensor- No
IP65 Rating - Suitable for Wet Locations
UL, DLC Premium approved
5 years of Manufacturer's Warranty
Easy Installation
This product is easy to install and in order to install all you need is a pack of few screws and anchors - The plastic screw anchors and self-tapping screws. Just make sure, you do not install the wall pack on an uneven curve or a sloping ceiling.
Ultra Wide Beam Angle
This LED wall pack has an ultra-wide beam angle (120 degree) and that means this wall pack illuminates wide spaces. The light distribution is even and uniform throughout the entire space and no object is specifically highlighted in the illuminated zone.
IP65 Rated
The wall pack is protected against complete ingress of dust and water coming from a nozzle.
Die Cast Metal
The housing of the wall pack is constructed out of die-cast aluminum for sustaining any external tampering, rust or corrosion.
Energy Saving
The LED wall pack brings about sufficient lumens in any of the application, require less wattage than the conventional metal-halides or sodium-potassium and yet save you 75% of energy at the least.
CRI >80
The CRI of LED wall pack being greater than 80 reflects standard Color Rendering Index and that means the objects look as real and natural as they would in presence of natural light.
Premium LED Chips
We ensure highest quality of our products by having premium LED chips from Epistar.
Shatterproof
The LED wall pack is made completely shatterproof for ensuring resistance towards external stress or strain, wear and tear. This is done in order to protect the lens from breaking under ordinary circumstances.
UV & Mercury Free
The LED wall packs do not have any UV radiation or any infra-red in their light beams. Such radiations can have disastrous effects on the human health and we have taken enough care to provide radiation-free products to our customers. Additionally, they are also free from any heavy metals such as lead or mercury which are toxic to human beings. Our environment is thus secure for the human beings.
Low Maintenance Cost
The LED wall pack is designed in such a way that it doesn't require much maintenance even if it was operated for 24 hours a day and for 50,000 hours (5.7 years). It must be noted that there is very less loss of lumen output at the end of the lifespan -- such is the operational efficiency of LED wall packs.
Rugged Construction
Thanks to our lighting designers, we now have lights that are durable and have protective covering. Our wall pack is housed in rugged die-cast aluminium for protection from external tampering, any stress or strain.
Rebate Eligible
The LED wall pack being DLC certified falls within the scope of rebate-eligibility criteria and hence you can be eligible for rebate if you intend to have LED wall pack as your outdoor lighting fixture.
Specifications
| | |
| --- | --- |
| IP Rating: | IP 65 Rated |
| Brand: | LEDMyplace |
| Color Rendering Index(CRI): | >80 CRI |
| Dimensions (L x W x H): | 14.2 x 9.25 |
| DLC Model no.: | Wen-wp-80wa1 |
| Housing: | Metal |
| Lumens: | 10400 Lumens |
| Power Factor: | >0.9 |
| SKU: | Wen-wp-80wa1 |
| Warranty: | 5 Years |
| | |
| --- | --- |
| Beam Angle: | 110° Beam Angle |
| Certifications: | UL, DLC Listed |
| Color Temperature (Kelvin): | 5700 Kelvin |
| DLC Listed: | Yes |
| Fixture: | Yes |
| Life Hours: | 50,000 Hours |
| MPN (Part No.): | WP026 |
| Replaces: | 280 Watt Replacement |
| Voltage: | 100-277 Volt |
| Wattage: | 80 Watt |
Product Review
Can you dim down the light

No, they are not dimmable

Do you have led with 2700k or 3000k replace 400 watt metal Halide? Wall mount ?

we only have 5700k in stock right now. howveer we can get you any color temprature if you could wait for few days.

Do you have led 2700 k or 3000k replace for 400watt metal helide? Wallmount ?

We can get these in 3000k but it will need 2-4 weeks lead time

Does the bulb come with the light?

these dont require bulbs , they have the LED's built in them

How long does it take to ship them.

It takes 4 business days to ship

Can you get this light with photocell?

Hey,

Yes this LED Wall Pack comes with the functionality of Photocell. You just have to follow above-listed steps to connect the Photocell Sensor to use it.

Also, you can follow along with this link.

https://cdn.shopify.com/s/files/1/1198/3148/t/60/assets/4d273477e368--121.jpg?v=1603116087

 

 

 
Choosing a selection results in a full page refresh.